FHHS's quarterback from 1998 checks in....
Hi Ian,
I just wanted to check in and say hello to you! I still check the blog every day and enjoy checking up on the island. I thought you would enjoy this folk song on love! It reminded me of something you would get a kick out of! Take it easy - Elliot Pemberton
Lovin' the dogs....
While it was sad to hear about those puppy mills in Mount Vernon, it's cool to hear islanders are doing something about it. Here's two stories - the first from Lisa Anderson from last Sunday:
Hey, Ian - I just thought you should know that today, Lisa & Jessica from Downtown Dog, along with some folks from our Animal Shelter, went to Mount Vernon to help with the hundreds of dogs that were rescued from BAD puppy mills/kennels over there. They are going to help in any way they can (bathing dogs, cleaning kennels, etc) and then the Animal Shelter hopes to bring some of the dogs back here to be cared for until they can be fostered out or adopted. Lisa & Jessica are planning to spend the night over there (sleeping in the Downtown Dog Bus) so that they can help for two days.
Lisa Anderson
And sure enough, the Animal Shelter is helping out - here's more from Tawny at the APS:
Hi, Ian,
Last Monday, three members of the Animal Protection Society - Friday Harbor Shelter went to the mainland to help with some of the over 600 dogs from the recent puppy mill rescue.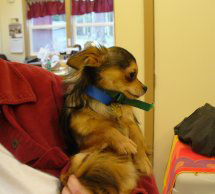 S.P.O.T (Saving Pets One at a Time) was given initial custody of the dogs and has asked many of the area shelters to temporarily house the dogs until the legal situation is resolved. The dogs have received preliminary veterinary exams, have been bathed and given necessary care and identification tags.

Friday Harbor Shelter director, Leslie Byron offered our facilities to foster as many of the dogs as possible. We brought back 12 dogs of various ages and breeds (like Edgar, right), among them are Chihuahuas, Miniature Australian Shepherds, a Silky terrier, a Jack Russell terrier and a Yorkshire terrier. These dogs will be held at the shelter until they hopefully will be released to us to offer for adoption.

Anyone wanting to help is welcome at the shelter. The dogs need lots of love and attention and the larger ones would love to take you for a walk on the trails surrounding the shelter. Additional items needed are: puppy training pads, canned dog food, toys for small dogs and cash donations are always welcomed for veterinary needs.
Laura's on KLOI this weekend....
The program folks at KLOI report: Aloha from Laura Greenan! She is looking forward to presenting her live show on Sunday, February 1st from 12 Noon to 2 p.m. She will be featuring some older vinyl selections from Gabby Pahinui, Kui and Nani Lee as well as current artist as Lei'ohu Ryder and Keali,i Reichel. She will be reading about the Menehune or little people of Hawaiian folk tales.
Don't miss it! Sincerely yours, Jane (subbing for Anne)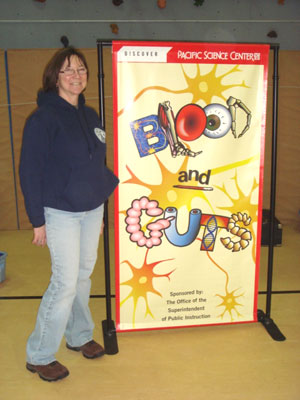 Blood & guts...cool!
Here's more from Tanja Williamson about a cool happening at the elementary school:
Last Wednesday, the Pacific Science Center's "Blood and Guts" van made a stop at FHES. What a treat! The entire school learned about physiology, explored the skeletal system and followed the path of a red blood cell through the circulatory system. Thank you to the San Juan Island EMS and Inter Island Medical Center for underwriting this amazing program. And thank you to Lainey Volk (from the EMS, right) for helping staff the program. The students had a great time and learned something to boot!
Chili Cook-off news....
You know, it was great - Josie & I dropped by the CC on Saturday to check all the different ways chili can be cooked - it was great! Ranging from white bean chili to chicken chili to really hot chili to almost-hot....it was pretty cool. Be sure & catch it next year!
Susan Matthews reports in, with a recipe:
Hey, Ian. It was delightful chatting with you and Josie at the chili cook-off last Saturday. What a great, warm thing to do on a very cold, wintery day on the island.

I had quite a few requests for the recipe for Susie's Sizzlin' White Chicken Chili (more pedestrianly known as plain old White Chili) and thought that, if you're looking to fill some space on your site (as if we don't have enough good island news), you might pass on the recipe for those who'd like it. It's attached. (And here it is!)
Hope you're enjoying this SUNNY winter day today!
Today's reports from France.....
Nancy's kids keep the stories coming - here are today's installments:
The 3 hour train ride from Paris to Aix was the most nerve-wracking experince i've had in a while. We tried to distract our thoughts with playing cards or talking; but the topic always came back to what lies ahead: meeting your host family. As we got off the train everyone was shaking with nervousness, and the following car ride home was extremely awkward. What do you say to someone you're going to be living with for a couple weeks, and how do you say it in another language? My host family turned out to be really welcoming. We do our best to have conversations in french, but sometimes I have to cheat with English.
Occasionally my family gets in arguments about proper English and they talk over each other for about 5 minutes before they remember I'm there. "can you say..." became one of their favorite lines over the first few days. Everyone in my host family is fairly fluent in English so when they can't understand my broken French that helps a lot. My family is always trying to entertain me, but they have an obligation to themseleves also. They are all very studious. On some days my host sister doesn't get finished with her classes untill 7 at night, she then comes home and studies. They place a lot of stress on good schooling for highschoolers.
Over the next week my host mother told me she isn't going to use any English to really force me to talk in French... and use a lot of hand gestures. I am really excited for this and am looking forward to improving my language skills.
Angela Gossom
++++
Bonjour,
This week we started our French class. Its tough because we can only speak French (cause we're in France: ) but madame Jones taught us well so we've been off to a great start! This week was also our first week with host families! On the way to Aix-en-Provence we were all very nervous about meeting our host families but once we met them it wasn't bad at all. I think the family stay has been the best part of the trip so far. Even though they had never met us they all made us feel right at home. Living with host families can be hard at first but as the time goes by you become closer and closer. Also, living with a host family really makes you mature and it's a very good life lesson for all who try it.

À bientôt (see you soon),
Alex Forgie
+++++++++
....and from Catherine Bevens:
Greeting from Aix-en-Provence!
Our time in Paris certainly flew by, and now we've been in the south of France for a week. Each of us is staying with a host family, but we attend an immersion school together. Our classes are going great. I am in a different group than the rest of our group, which is difficult but I am learning a lot. It's an amazing experience. We all have a host sibling about our age, so it has been cool attending their classes at a French lycee. They city here is beautiful, and in many ways has the same small town feel as Friday Harbor. We've been so busy too, that it's hard to believe our time here is halfway done! The language has been one of the hardest things, of course, but I know my host family has been especially patient and encouraging in the learning experience. We're missing things back home but looking forward to another week's experience here! Bisous!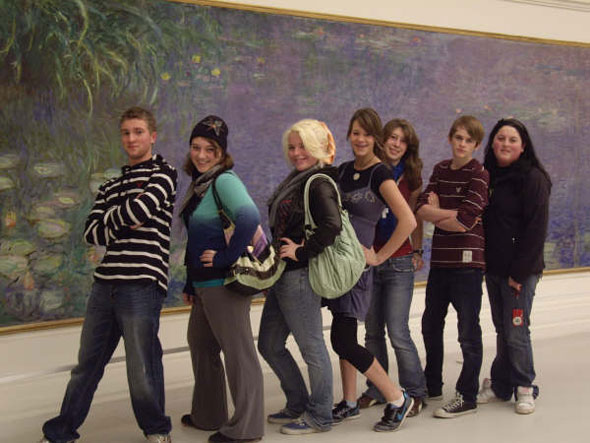 That's the FHHS kids in France, at the Orangerie Museum in front of Monet's
famous water lily painting
Here comes the chipper!
The Fire Department's Ron Garner has more:
Firewise Chipper Coming to To Town: Skagit County has lent the Firewise communities of San Juan Island a chipper to help our communities maintain safety zones and reduce fuel loads. Originally the chipper was going to be here for ten days which allowed only the new Firewise Communities access to its use. Now the plan is for about three weeks or as long as the chipper is here, to allow any present or new Firewise Community to use the chipper for a day. If any non Firewise Community would join the free nationally recognized program, they would also qualify for a free chipper day.
The chipper will be on island January 31, to about February 17, 2009. Any Firewise Community can organize a chipper day by calling Ron Garner, San Juan Island Fire Department's Firewise coordinator at 378-7722. Scheduling will be on a first come basis until the chipper is recalled by Department of Natural Resources. Brush needs to be brought to the roadway before the chipper day and residents available to help feed the chipper. Joining Firewise is a start toward protecting your home from wild fire.
Quote
You can't pick and choose from God's law. ... The same God who said "Do not commit adultery", also said, "Do not murder". ... Remember, you will be judged. There will be no mercy for those who have not shown mercy to others. ...
Mean-spirited ambition isn't wisdom. Twisting the truth isn't wisdom – it is criminal cunning, devilish conniving. ... You end up with everyone at each other's throats.
Real wisdom is peace-loving, - characterised by getting along with others. It is gentle and reasonable, and willing to yield. ... Those who are peaceful will plant seeds of peace and reap a harvest of righteousness.
- from the Epistle of James
---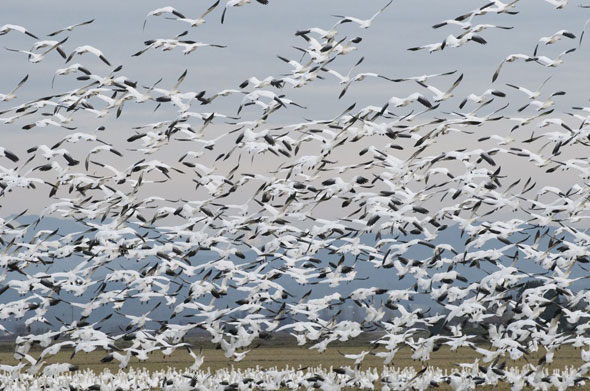 Snow geese last weekend, by Jim Maya.
Click on the picture to see the really cool, bigger version.
January 28, 2009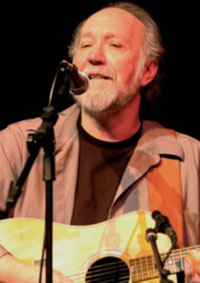 Music from Home....
Kentucky's Ron Short (right) and the Roadside Theater bring Music from Home to the Community Theatre this weekend....here's more about Saturday's show.
Collecting comet dust & returning to Earth....
That's what Dr. Brownlee from the University of Washington's astronomy department will be talking about tomorrow night at the Labs...he's the principal investigator for the STARDUST program, and spoke here three years ago - it'll be great to hear his update from that time. Here's more about him, and here's more about the presentation.
Good show, that 'Doubt'.....
It was cool to see what the moviemakers did with Doubt after we had it here on the island last year with Island Stage Left. The local production got people talking for days afterwards - you couldn't go anywhere without someone saying, "Did you see the show? What did YOU think?" Well-written stories are like that, especially when they're well-acted.
It was a special treat to see Dan Mayes and the cast from our production at the movie last night, and to hear what they thought of it. It was especially good to see Dan - he's looking hale & hearty after heart surgery a month ago, and he says he's feeling pretty good, too.
Laura's open!
I dropped by Laura Greenan's new studio at Surina Business Park for her open house on Saturday, and it sure is nice the way she has things set up. Stop by & say hey - here's her website that tells what she offers.