---
February 5, 2009
The Dance is on Friday...
Tomorrow is the Father-Daughter Dance, which I've been lucky enough to go to the last three years...it's cool!
Here are tons of pictures from those years - look at 'em if you like to see beautiful girls & proud papas! ...and a note from Abby about this year's dance: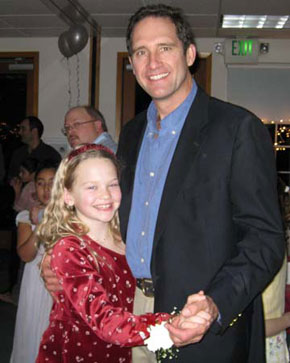 Father-Daughter Dance 2007
Hi Ian! Could you please remind everyone that Island Rec's Father Daughter Dance is tomorrow (Friday, Feb 6th) from 7-9 pm at the Mullis Center. Tickets are still available at the Island Rec office for $20 per couple, $6 for extra daughter or $25 per couple at the door. Vinny's Ristorante is providing food again for this year's event and every girl receives a keepsake photo and corsage. Contact Abby @ 378-4953 for more information.
Meeting at the corner.....
It's nice that the weather's been nice enough that people have their windows down when they ride through town....
Last week I saw this family-van kinda mini-SUV going down the street, with a mom driving & maybe 40-50 kids inside. Maybe 60. I could see she was trying to control the vehicle, the dog, and the kids, all at once. There only one dog, I think.
As she came a near-stop at that corner in front of Wells Fargo, on the Springtree side, she started to roll through when she hit the brakes - she saw this guy starting to cross who obviously figured she'd wait for him.
"Hey, don't you know when to stop?" he hollered at her.
"They're not all mine," she responded, somewhat icily.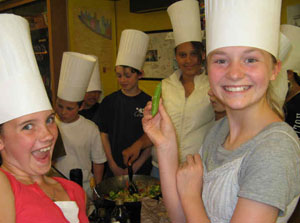 Community dinner this Saturday.....
They're asking for donations at the Community Dinner at FHHS from 5-7pm this weekend - the food is prepped by the kids in the cooking classes & overseen by Chef Tom's Experience Food Project. This is one of the most successful programs around - you need to check it out!
Here's a blog, written by the kids and here's Chef Tom's site.....and come eat on Saturday. See ya there. You'll be glad you did.
Getting out....
You already knew the Schools Foundation's Knowledge Bowl is tonight, but did you knw the Playwrights' Festival is tomorrow & next weeK It's a good one this year, I hear from the actors - here's more.
Here's a Valentine for ya.....
Afterglow Spa at Roche Harbor re-opened last week. Winter spa hours are Thursday through Sunday from 10 am - 5 pm. Guests can schedule future appointments by contacting the spa 360-378-9888. Check 'em out on the Roche Harbor website.
Quote
Half the lies they tell about me aren't true.
Yogi Berra

What's happening on the island!

---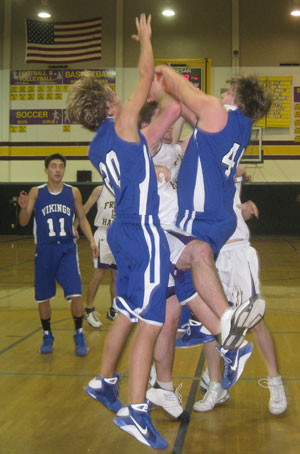 February 4, 2009
In the big leagues....
You know that new Seattle Mariner (and former Cub) Garrett Olson's parents have a place in the San Juan Islands? Now you do...here's more.
Speaking of the big leagues....
The FHHS boys played like they belong in them, bumping Orcas 52-35 last night. The Wolverines led by 31 at one point, before emptying it in the fourth. Bruiser & power forward Parker Lawson played one of the best games I've seen him put in this season, controlling the boards and hanging onto the ball in traffic (see right - Parker, in white, pulled the offensive rebound down in the crowd, took his power step to the hole & jammed it back in through the double team. Rockin'....)
The girls came up just short in their see-saw game with the Vikings...both teams return to floor on Saturday against Shoreline Christian, with a week and half to go to the end of the season.
School Board decision and meeting delayed.....
The Board had a special meeting set for tonight to deal with the budget crisis, and has reset that meeting for a month from now....here's more from Schools Superintendent Michael Soltman, yesterday:
Board Decision on Financial Planning Recommendations Delayed to March 4th: The special board meeting scheduled for Wednesday, February 4th, has been rescheduled for Wednesday, March 4th, at 6:00 p.m. The School Board was scheduled to act upon financial planning recommendations at tomorrow night's meeting, however, the Board will delay the meeting to honor faculty and staff requests for more time to understand the recommendations and the underlying financial projections. Further, new analysis of revenue projections indicate that anticipated revenue declines will be somewhat less then the $826,000 predicted for 2009-10. Consequently further review of the analysis and program options will be considered.
Board Chairman, Boyd Pratt, and Superintendent Michael Soltman issued a joint statement saying, "Program restructuring decisions of this magnitude must be clearly understood and supported as much as possible by those who will be responsible for implementation. It is important that we all have a common understanding of the financial analysis as well as the program choices available. We believe that some additional time dedicated to this process will ensure well considered decisions that engender greater support."
During February District administration and board members will continue to meet with the Financial Task Force and faculty and staff representatives to develop deeper understanding of the financial projections and available program options.
Quote
The American people have a right to air that they and their children can breathe without fear.
Lyndon Baines Johnson
---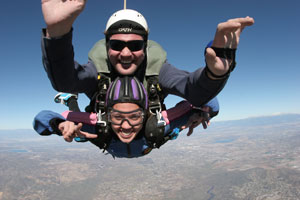 February 3, 2009
That's Erin Woodward (right) in the middle her first skydiving jump....click on the pic to see the big version, and then tell the people at work why you just said "Wow!" out loud.
Thinking about yoga?
I thought these remarks by Laura (or at least, I think it's Laura) from the Bird Rock Hotel about doing yoga here on the island sum up why it's a great thing to be doing. (Read it here.) We have more yoga offered here than any place this size...and this is a good month to get started.
Out of work? Here's a place to start....
Minnie from the Career Center has a good deal for you, if you're out of work....here's more:
Skagit Valley College and the Career Center are partnering to do a class for dislocated workers. The class is free and participants get college credit for it - also free.
The class is called Turning Points and is to assist people with an examination of their strengths and goals to transition after a big change in life such as losing a job. Previous students have found it to be life changing.
There will be an orientation and registration for the class on February 9 at 10 AM at the Legion. To reserve a seat for the orientation or for more information people can call me at 378-4662.
Thanks,
Minnie Knych, Coordinator
NWDC Career Center
Quote
You know you're getting old when you stoop to tie your shoelaces and wonder what else you could do while you're down there.
George Burns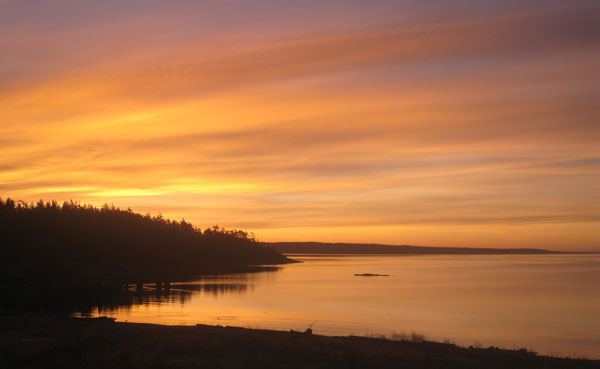 Tuesday morning's sunrise at Jackson's Beach at 7:30am....good morning to you!
Click on the picture to see it full size & full glory...
that's Lopez in the background, and Spokane just past that.
---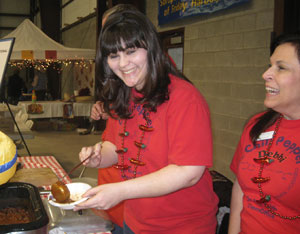 February 2, 2009
That's Gretchen helping her mom Debbi & the Soroptimists at last week's Chili Cook-off - I checked...theirs was good!
Xtreme Fitness is now open....
Ken Clark dropped me a note to tell you & me that his gym is now open.
He asked me to tell you: "Come on in and be among the first to get in on our introductory rates and be able to have a fantastic new place to work out. Sign up bonus...Pay now for a full year and we'll waive the initiation and gift you a free T-shirt."We are pleased to announce that we are now open!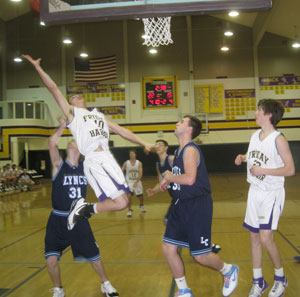 FHHS rolls...next up: Orcas on Tuesday....
The boys showed a lot of poise with a very tall & tenacious Lynden Christian team Saturday night. The Wolverines held the Lyncs to only four points in the first quarter & a half, but had to settle for a 26-23 halftime score as they visitors charged back. LC kept it close till FHHS opened it up in the last four minutes, and went on to win 52-46. That's Michael Ausileo flying high for an offensive rebound as Albert Strasser watches.
The girls played a tall, tough state-bound Lynden Christian team and came out on the short end of a 68-25 count.
The teams welcome cross-water rivals Orcas on Tuesday at 4:15pm - see you there!
Update on Beth Hudson....
Nancy Hanson reports that she went to visit Beth last week:
Hey Ian!
I was at the Seattle Gift Show last weekend and was able to stop by to see Beth at Harborview on Monday. Her spirits are great! We had a lovely visit. She was sitting in a 'cardio' chair for the first time and very grateful to be out of the bed. She is still looking at a very long recovery, but will be happy to be back on the island as soon as the physical therapists will allow. Her room is a delight with lots of flowers and pictures of the island and island folks.
Thanks!
Nancy Hanson
(The Toy Box)
Opening in a couple of weeks....
Brian from San Juan Outfitters says he's opening his season (kayaks & whale watching) over Valentine's Day weekend...here's more.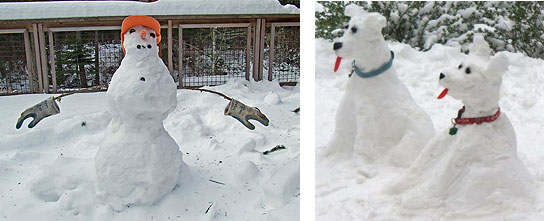 Jerry Rasmussen sent his snow-dogs from December: "This may be dated but I thought you would enjoy seeing the snow dogs that Jamie Ellsworth built back at Christmas time. I thought they were the best I have seen locally. I included a photo of my snow man as a basis for comparison."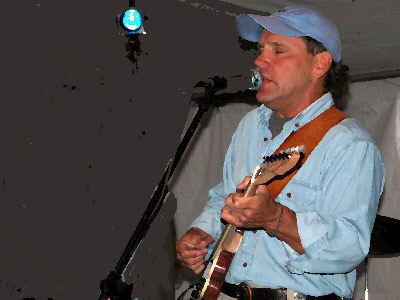 Tom's new song....
Have you heard Tom Doenges' new song (right)? Here's more....you can give it a listen, and you can buy buy it on iTunes (here.) He says: "Download it for a buck & you can play it in your truck."
Paint the Town of Friday Harbor!
Ruth at waterworks gallery has a competition in May in celebration of the Town's Centennial...here's more on her links page (click near the top). Artists are invited to paint their interpretations of the Town of Friday Harbor and enter their paintings in the juried show.
Fund Raising for Small Non-Profits Class at Skagit Valley College
Bob Schwartzberg, CFRE, will be teaching a day-long class on fundraising strategies for small organizations and small budgets at Skagit Valley College, San Juan Center on Monday, February 23, 2009 from 8:30 AM-4:30 PM. Participants can expect to build a convincing case for financial support and create a fundraising process that works, and is attainable with limited resources. Cost is $69. To register contact Skagit Valley College, San Juan Center at 360-378-3220 or sgardiner@skagit.edu.
Here's the complete scoop - see you there. You need this one.
Thanks for the helping hand....
Animal shelters up & down Western Washington have been helping out with that puppy mill activity in Mount Vernon, and ours has been a big help because of a lot of folks throwing their help in....here's more from Michelle at the local APS:
Hey, Ian!
The Animal Protection Society of Friday Harbor would like to thank the community for support while trying to help our mainland dogs in need. APS Director Leslie Byron, Board Secretary Jaime Ellsworth and volunteer Lynda Howell worked diligently to bring fourteen dogs to our shelter.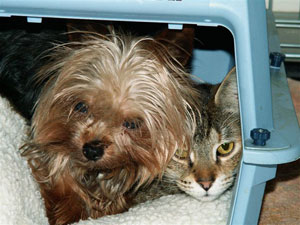 These dogs are now experiencing the "island way," including this little fellow who made friends with one of the shelter cats.
Moving from soiled wire cages to floor heated spacious quarters these dogs are learning that life can be sweet. Many have enjoyed laps (thanks to Donna Greenway), special hair cuts (thanks to Lori Brow), walking (thanks to Michael Hall and others) and fine veterinary care ( thanks to Dr. Tess Leonard). Baths, extra laundry duty and cleaning have been provided by many. APS staff Michelle Beachem and Rina Tappan have worked tirelessly to adjust these dogs to a clean healthy environment. Many thanks to Lori Stokes and others who have donated money and food items. We will keep you informed on Ernie, Bianca, Belle and friends' status on our website www.apsfh.org. Come visit.
Thank you,
Michelle Loftus DVM
APS Board Vice President (360-378-2158)
Where are the osprey?
Monika has the scoop:
Hi Ian,
I thought you and your readers might be interested to know that the osprey nest at British Camp is no more. It's been around as long as I can remember, and is even mentioned in several books about the area that I have, but while out there birding yesterday we noticed that it's no longer perched on top of the tree where you can see it from the field near the bay.
You can read about the nest and other wildlife sightings of note from yesterday at my blog post from yesterday.
Cheers!
Monika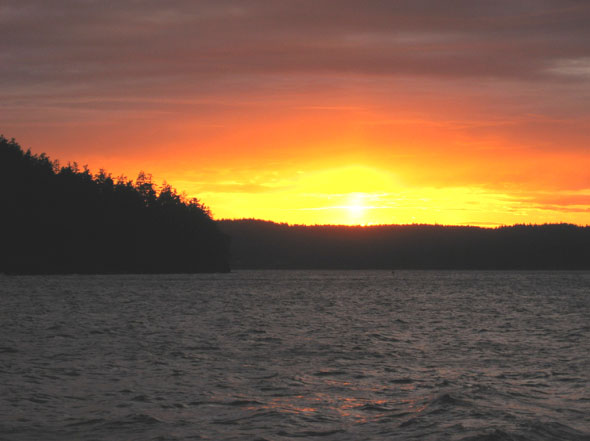 Sunset last week on the way home on the ferry from Anacortes, by Melanie Rollins
Your chance to work with the kids at FHHS....
The Gates Grant has been renewed for this coming year, and this is your chance to make a proposal. Program coordinator Larry Wight has more (here's the download):
I have attached a copy of our 9th RFP. Proposals are due on March 6th with awards scheduled for March 11th. The RFP packet is self explanatory and elaborates on the criteria and conditions; most notable is that funds can only be expended on supplies and materials and that Friday Harbor High School students must actually perform the work. Student interest must be documented before submitting the proposal. Writing the proposal should be straightforward: the actual proposal requires answering only nine questions and providing a budget. I am available via cell phone or, preferably, email to answer any questions.
Larry Wight
Director, Career and Technical Education
Friday Harbor High School
45 Blair Street
PO Box 458
Friday Harbor, WA 98250
lwight@sjisd.wednet.edu

Imagine seeing you here.....
Serendipity Books' Carol Jackson reports from New Zealand that she's run into former islander Kate Stone - small world gets even smaller - here's more.
Yes, there is a Plan C....
You've heard of Washington State ferries' Plans A & B....there IS a Plan C, and it makes more sense to me than the other two, mostly because it's more conservative about keeping the ferries. Check it out, and sign the accompanying online petition if you agree, my friends.
Happy Birthday, Friday Harbor!
A message to you from the mayor:
The Centennial Birthday Event is fast approaching, and as Mayor of Friday Harbor, it is my pleasure to invite you to celebrate 100 years of growth, achievement and community pride on Monday, February 9, 2009! Whether you've lived here all your life or have just moved here, this landmark in time should make each of us proud. Friday Harbor is steeped in history, long-standing family traditions, and optimistically holds a passion for a future that is bright indeed!
The extraordinary efforts of both our volunteers and staff made this celebration possible. Please join us during the day-long celebration at the Grange Hall, Town Fire Hall and San Juan Island Yacht Club to enjoy on-going events, food, music and a host of other activities that will make for a fun-filled day for the family. A schedule of events will be posted in the Journal of the San Juans; and the online newspapers and community calendars. Additionally, a program of events will be issued and distributed throughout Town the week prior to the celebration.
Please come and show your pride in where we live and help us make this event a lifetime memory!
Mayor David F. Jones
Did you know about next week's workshop?
It's at the Community Theater - here's more:
PLAYWRIGHT WORKSHOP
WHEN: Saturday, February 7 from 10 a.m. to 3 p.m. (Lunch served) and
Sunday, February 8 from 10 a.m. to 1 p.m.
WHERE: San Juan Community Theatre's Gubelman Theatre
WHO: All county writers are invited to this FREE workshop with author and playwright Mark Dunn. Mark has written over twenty plays since 2001, including Belles and the Five Tellers Dancing in the Rain which has been produced more than 150 times. He was playwright-in-residence with the New Jersey Repertory Company and the Community Theatre League in Williamsport, Pennsylvania.
WHAT: Mark will begin the session with a discussion of the 2009 Islands Playwrights Festival and then move into a participatory workshop on the craft of writing a play. Writers are asked to bring in a small sample of a work in progress.
R.S.V.P. This is a FREE workshop (donations are accepted).
Please register at the SJCT box office (open Tuesdays through Fridays from 11 a.m. to 4 p.m. and Saturdays from 11 a.m. to 2 p.m.) or call Judy at 378-3211, ext. 23.
Quote
From Jackson Browne's "For A Dancer"...
Keep a fire for the human race
Let your prayers go drifting into space
You never know what will be coming down
Perhaps a better world is drawing near
And just as easily it could all disappear
Along with whatever meaning you might have found
Don't let the uncertainty turn you around
Go on and make a joyful sound