What's Going On?
Posted November 26, 2012 at 4:23 am by Tim Dustrude
Here are some cool things com­ing up this week, next week and one cool event from last week that you might want to take a look at: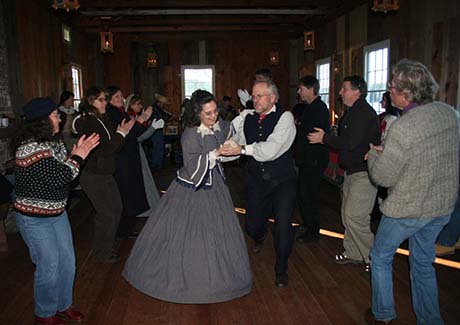 Join San Juan Island Nation­al His­tor­i­cal Park staff and vol­un­teers for the annu­al old-fash­ioned Hol­i­day Social, tree-trim­ming and cook­ie potluck from noon to 3 p.m., Sat­ur­day, Decem­ber 8, at Eng­lish Camp.
Vis­i­tors are invit­ed to bring hol­i­day cook­ies and orna­ments to hang on the tree, which will be erect­ed in the old British Roy­al Marine Light Infantry bar­racks build­ing — just as it was like­ly done in the mid-1860s when the camp was in its heyday.
The park's 2012 Vol­un­teer of the Year award and vol­un­teer recog­ni­tion is sched­uled for 2 p.m.
Admis­sion is free. The park will pro­vide bev­er­ages, two crack­ling fires to warm the bones and enter­tain­ment to include staff and vol­un­teer re-enac­tors in peri­od uni­forms and dress, sto­ry­telling and con­tra danc­ing with "Pig War." The San Juan Car­ol­ers also plan to drop by for a few songs. Vol­un­teer awards also will be presented.
A motor­ized golf cart will be avail­able in the Eng­lish Camp park­ing area for per­sons with acces­si­bil­i­ty needs. For infor­ma­tion, call 378‑2240, ext. 2233, 2228 or 2227.
+++++++++++++++
Beads!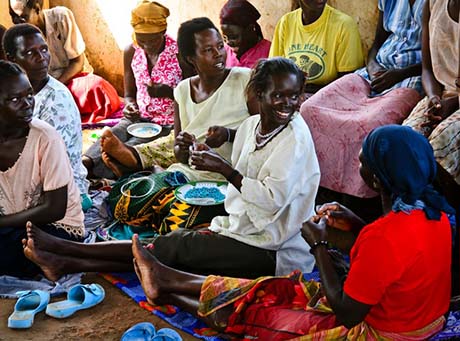 You are invit­ed to a Bead Par­ty! A Bead­for­Life Bead Par­ty will be held at Islanders Bank (in the con­fer­ence room) from 1–4 p.m. Wednes­day, Novem­ber 28. For­mer Islander There­sa Mor­row is host­ing the par­ty to ben­e­fit impov­er­ished women in Ugan­da. Bead­for­Life teach­es Ugan­dan women to make beau­ti­ful jew­el­ry out of beads made from recy­cled paper. The beads are then sold world­wide, with the funds going back to Ugan­da to help women cre­ate their own busi­ness­es, pay school fees for chil­dren, and obtain housing.
Help erad­i­cate pover­ty and enjoy the beau­ty of these recy­cled paper beads by attend­ing the Bead Par­ty. It's a great way to buy gifts for fam­i­ly and friends, and feel good doing it!
+++++++++++++++
The annu­al Com­mu­ni­ty Thanks­giv­ing Din­ner was a big hit. Here are some pho­tos shot by Rich Nor­ris sent over by Diana Man­cel for you to enjoy. And a few more pho­tos sent over with a thank you note from Jim and Min­nie Knych:
Thanks to all the ser­vice clubs, busi­ness­es, vol­un­teers and din­ers who par­tic­i­pat­ed in the 14th annu­al Com­mu­ni­ty Thanks­giv­ing Din­ner at the Grange. The day cer­tain­ly lived up to the name of Thanks­giv­ing celebration.

So many peo­ple said "Thanks for doing this" but even more empha­sis is on the giv­ing part. The most fre­quent com­ment is, "What can I do to help?" And, there is always anoth­er job to be done at a big event like this.

Between 425 and 450 din­ers enjoyed the com­mu­ni­ty cel­e­bra­tion. It is not pos­si­ble to name all who par­tic­i­pat­ed in some way for this ven­ture. Please just know that we are thank­ful for all of you and hope you enjoyed being part of this big San Juan Island fam­i­ly as much as we do.

Sin­cere­ly
Jim and Min­nie Knych
You can support the San Juan Update by doing business with our loyal advertisers, and by making a one-time contribution or a recurring donation.