This is Our Town: Kerry and BooBoo
Posted March 18, 2013 at 8:58 am by Tim Dustrude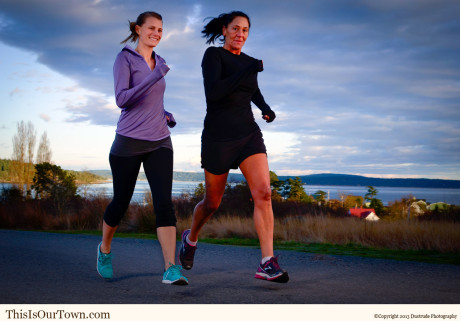 Ker­ry Andrews and Boo­Boo James are the two women who got Run Ladies Run going here on the island. Their friend­ship start­ed about 13 years ago when they worked at the Ale House and evolved into "babes in back­packs" with walks around the island. Even­tu­al­ly their walks turned into runs. Click here to read more.
ThisIsOurTown.com is a glimpse of the peo­ple and busi­ness­es that shape the per­son­al­i­ty of Fri­day Har­bor & San Juan Island. It is a project of Dus­trude Pho­tog­ra­phy.
And don't for­get — Run Ladies Run annu­al 10K and Half Marathon is next week­end on Sun­day, March 24th. Both events will start at 9:30 am begin­ning at the EARTH BOX MOTEL and SPA (410 Spring St. Fri­day Har­bor, WA). Run­ners and walk­ers alike are wel­come. Last day to sign up is Fri­day the 22nd and all reg­is­tra­tions for the event are through Active.com. So get signed up and get running!
You can support the San Juan Update by doing business with our loyal advertisers, and by making a one-time contribution or a recurring donation.