"The Fabulous Fifties"
Posted April 4, 2013 at 5:30 pm by Tim Dustrude
Re-post­ed with this cor­rec­tion: The $200 prize men­tioned is for the Best Vin­tage Car or Truck.
Announc­ing the theme of the 2013 4th of July Parade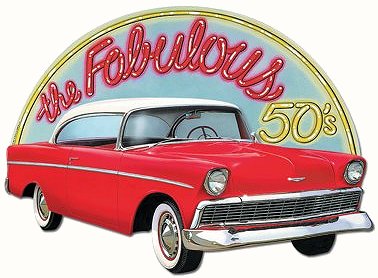 Unpack your poo­dle skirts and dust off those sad­dle shoes! Pam and Lin Pear­son of Petro San Juan, long­time vol­un­teer orga­niz­ers of the San Juan Island 4th of July parade, announce that the parade theme this year is The Fab­u­lous Fifties!
"We're offer­ing a $200 grand prize for the best vin­tage car or truck," says Pam, who said she is look­ing for­ward to lots of men in white T‑shirts (with or with­out a pack of Lucky Strikes tucked into the rolled-up sleeve), vin­tage cars and rock n' roll music. We're hop­ing to get lots of 1950s cars in the parade this year. The entry fee is only $20…Spread the word!
Please vis­it Petro San Juan at 605 Mullis Street (phone 378‑5122) or the Cham­ber of Com­merce office at 135 Spring Street (phone 378‑5240) for your appli­ca­tion to join in this fun parade.
(2013 Parade Mar­shall to be announced lat­er. Stay tuned!)
You can support the San Juan Update by doing business with our loyal advertisers, and by making a one-time contribution or a recurring donation.