One MedEvac Membership Now Does It All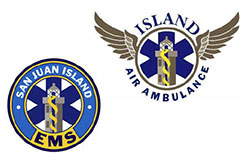 Island Air Ambulance's MedEvac Membership is now recognized for reciprocity with the Association of Air Medical Membership Programs (AAMMP) for zero out-of-pocket billing.
Simply put, San Juan County households will only need to have one membership to benefit from participating programs now including, Airlift Northwest, Air St. Lukes, Care Flight, Enloe FlightCare, Island Air Ambulance, Life Flight Network, Northwest Medstar, and Wyoming Life Flight.
For further information about these exciting new benefits, go to www.medevacmembership.org.