One MedEvac Membership Now Does It All
Posted October 15, 2013 at 5:11 am by Tim Dustrude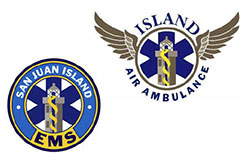 Island Air Ambulance's MedE­vac Mem­ber­ship is now rec­og­nized for reci­procity with the Asso­ci­a­tion of Air Med­ical Mem­ber­ship Pro­grams (AAMMP) for zero out-of-pock­et billing.
Sim­ply put, San Juan Coun­ty house­holds will only need to have one mem­ber­ship to ben­e­fit from par­tic­i­pat­ing pro­grams now includ­ing, Air­lift North­west, Air St. Lukes, Care Flight, Enloe Flight­Care, Island Air Ambu­lance, Life Flight Net­work, North­west Med­star, and Wyoming Life Flight.
For fur­ther infor­ma­tion about these excit­ing new ben­e­fits, go to www.medevacmembership.org.
You can support the San Juan Update by doing business with our loyal advertisers, and by making a one-time contribution or a recurring donation.