Film Festival Recap
Posted November 16, 2015 at 10:12 am by Tim Dustrude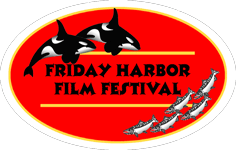 Lynn from the Fri­day Har­bor Film Fes­ti­val shares a sum­ma­ry with us of this year's event…
The 3rd Annu­al Fri­day Har­bor Film Fes­ti­val was a grand suc­cess! There were 32 films and 12 shorts screened in 5 sep­a­rate venues dur­ing the 3 full days of the Film Festival.
The rain did not seem to damper atten­dance: 18% more attend­ed than last year, plus, 20 film­mak­ers from around the world; Chile to France also attend­ed! We had over 100 stu­dents attend films using their free stu­dent pass­es! Many restau­rants and hotels report­ed a sur­pris­ing increase in busi­ness for a rainy Novem­ber weekend!
There were 4 spe­cial events dur­ing the Film Fes­ti­val. Fri­day night was the Open­ing Night Gala at the SJC The­atre. Megan Viven­zio start­ed the evening with a love­ly Poly­ne­sian dance. Sam and Bar­bara Buck were hon­ored as our 2015 Local Heroes! A won­der­ful slide show was pre­sent­ed that high­light­ed all their con­tri­bu­tions to our community.
Next Jim­my Moe sang 2 roman­tic songs in the style of Frank Sina­tra, in hon­or of both the Bucks who had been mar­ried 64 years and our Andrew V. McLa­glen Life­time Achieve­ment Award win­ners Sam Elliott and Katharine Ross, who have enjoyed 31 years of mar­riage! A mon­tage of Sam and Katharine's icon­ic roles both indi­vid­u­al­ly and togeth­er were screened along with a warm, gen­uine, 6‑minute video thank you to the Fri­day Har­bor Film Fes­ti­val from Sam Elliott. (Sam has gen­er­ous­ly agreed to allow us to post his thank you on our web site, fhff.org, watch for it!)
Mary McLa­glen gave a very heart­felt trib­ute to her father Andrew V McLa­glen, then the for­ev­er beau­ti­ful Katharine Ross accept­ed on behalf of her­self and her hus­band Sam. It was a love­ly emo­tion­al evening host­ed by the pro­fes­sion­al and amaz­ing Ali­cia Mal­one who flew to Fri­day Har­bor from Los Ange­les espe­cial­ly to host the Film Festival!
The Film­mak­ers were avail­able all week­end through­out town and at their screen­ings to answer ques­tions and speak to the films; which added a rich­ness and inti­ma­cy to the entire event.
The Film Fes­ti­val also host­ed a Film­mak­ers Forum Sat­ur­day morn­ing. Plus host­ed a cel­e­bra­tion in their hon­or with the Film­mak­ers Soiree Sat­ur­day evening. Both Sat­ur­day Film­mak­er events were at the SJI Yacht Club. Many local experts were on hand to field the ques­tions after a film that a film­mak­er was not present for.
There were 2 World Pre­mieres: Pas­sage to Mars (which also won in the Explor­ers and Adven­tures cat­e­go­ry) plus Raivavae, the sto­ry of a sea­far­ing peo­ple.
The awards cer­e­mo­ny Sun­day night fea­tured the emcee tal­ent of Ali­cia Mal­one again as well as the amaz­ing Orcas Island duo Broth­er for Sale.
Each win­ner of each cat­e­go­ry, that was present, received their award and gave a sin­cere thanks to the Film Fes­ti­val. The audi­ence sub­mits all votes count­ed so each film win­ner is by audi­ence choice.
The win­ners of the 3rd Annu­al Fri­day Har­bor Film Fes­ti­val were:
Best Over­all Film
No Place on Earth
Best Over­all Short
Threads
Best Tales of the Heart
Buck
Best Local Hero
Chi­hu­ly Outside
Best Explor­ers and Adventures
Pas­sage to Mars
Best Things to Con­sid­er ..there was a tie (less than a 1% difference)
The Hunt­ing Ground
Alive Inside
All these films will be avail­able to the mem­bers of our Film Soci­ety and in our office for bor­row­ing, ques­tions or to join, email: soci­ety [@] fhff.org.
Begin­ning Jan­u­ary 2016, we will be start­ing our win­ter Audi­ence Favorites Film Series at the Grange on Tues­day nights. We will also be accept­ing sub­mis­sions for films for 2016 till July 1, 2016.
The Fri­day Har­bor Film Fes­ti­val has a com­mit­ment from the SJC The­atre for the next 5 years to host the Film Fes­ti­val dur­ing the first week­end in Novem­ber so plan ahead and tell your friends!!
It is impor­tant to note that the Fri­day Har­bor Film Fes­ti­val screened Black­fish in 2013 before CNN screened it on nation­al TV and that film has made a major impact in the way cap­tive Orca whales are treated.
This year one of our win­ners; The Hunt­ing Ground will be screened by CNN, this next month, it promis­es to have a major impact on col­lege cam­pus­es across the nation! The Fri­day Har­bor Film Fes­ti­val is very proud to host films that expand our knowl­edge, cre­ate aware­ness and effect pos­i­tive change. That is the pri­ma­ry pur­pose of the film fes­ti­val; to enter­tain, inspire and enlighten!
For fur­ther info contact
Lynn Dana­her, Director
fhff2013 [@] gmail.com
360–472-1050
You can support the San Juan Update by doing business with our loyal advertisers, and by making a one-time contribution or a recurring donation.