Alive Inside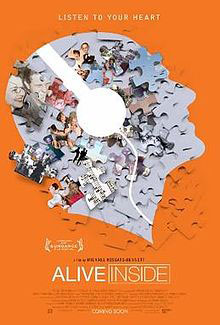 Friday Harbor Film Festival's Winter Series of Audience Favorites presents: Alive Inside
See the film that motivated Friday Harbor into action! The film everyone is talking about.
by Theresa Simendinger
Alive Inside: (April 5th at 7:00 pm at The Grange.) A Story of Music and Memory is a 2014 American documentary film directed and produced by Michael Rossato-Bennett. The film premiered in the competition category of U.S. Documentary Competition program at the 2014 Sundance Film Festival on January 18, 2014. It won the Audience Award: "U.S. Documentary" at the festival. The film deals with the subject of people suffering from Alzheimer's disease and how music therapy can help ease their suffering.
After seeing this film at the Friday Harbor Film Festival, Robert Demar, Francie Hansen, Beth Helstein, Mariluz Villa, Janice Fisher and other members of our community, started campaigns to provide music to memory loss patients.
Using the non-profit Music and Memory they are accepting donations for refurbishing donated iPods for residents of Life Care or private care homes. Robert Demar said seeing what happens when the patients hear "their" music from the past is what inspired him. FHFF founder Lynn Danaher said this kind of change is exactly what she had in mind by starting the FHFF.
Consulting with family and friends, the volunteers (and students from FHHS and Skagit Community College), compile music from an individual's past using donated iPods, Laptops and CD players…
Ahhhh a true community effort – What Friday Harbor is famous for!
Want to help? call Janice Fisher at Life Care Center: 378 2117