Conscientious Projector presents AWAKE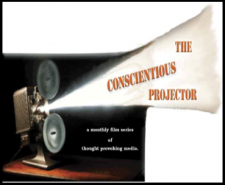 Rob Simpson of the Conscientious Projector Documentary Series tells us…
This Monday March 21, 7 PM is a rather unique Conscientious Projector.
We will be screening last year's award-winning film "AWAKE" about the man who introduced yoga and meditation to an unsuspecting America in the 1920's.
His name was Yogananda,…and he is the author of the only book Steve Job's kept on his iPad, "The Autobiography of a Yogi."
George Harrison of the Beatles claims reading this book in 1966 kept him sane.
Come see an unusual documentary about a most unusual individual whose influence is still reverberating across the land.
This will be the 2nd to the last of the monthly Conscientious Projector screenings. It's been going on for five years now, and the times they are a-changing.
Hope you can make it.