Feel the Bern in FH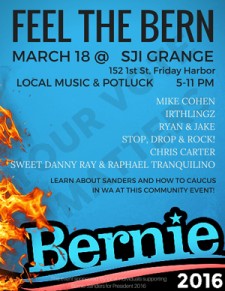 We've just heard there's a Bernie event tonight at the Grange. Here's more information…
Feel the Bern tonight at the Grange Hall. The event will run from 5:00 to 11:00 pm. People are welcome to drop in at anytime.
People of all ages are welcome to come learn about Sanders' campaign message for presidency and how to vote in the democratic caucus on Saturday, March 26th in Washington.
There will be a raffle to help raise funds for the Bernie Campaign.
People are encouraged to bring a potluck dish to share, which can be as simple as a bag of chips or a drink. No alcoholic beverages are allowed.
Local music will include:
Mike Cohen
Irthlingz
Ryan & Jake
Stop, Drop, & Rock
Chris Carter
Sweet Danny Ray & Raphael Tranquilino
The democratic caucus will be held in the FHHS commons on Saturday, March 26th when registration will begin at 10:00 am. The individual precinct caucuses start at 10:30 am.