All Aboard Sailing
Posted April 9, 2016 at 5:58 am by Tim Dustrude
SJI Cham­ber of Com­merce Fea­tured Mem­ber of the Month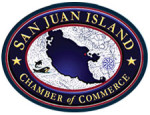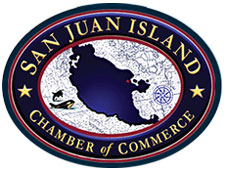 I orig­i­nate from Lands End, Corn­wall Eng­land, where on the gran­ite cliff top there is a sign­post point­ing West that reads 'New York 3147 miles'. I joined the Sea Shep­herd Con­ser­va­tion Soci­ety as an engi­neer and pho­tog­ra­ph­er, sail­ing from Corn­wall to the far reach­es of the US Aleut­ian Islands com­bat­ing issues of whal­ing and indis­crim­i­nate fish­ing. Jump­ing ship, I moved on to study­ing and inter­net shar­ing the acoustics and under­wa­ter video of Orca whales at a place called Orcal­ab in John­stone Strait, Canada.
I first came to Fri­day Har­bor dri­ving a school bus with the dis­play of a one-mile-long patch­work ban­ner. The ban­ner made by kids from around the world called for the release from Sea World of the North­ern Res­i­dent cap­tive orca Corky. The Coun­ty Fair was the last stop in our tour so I stayed here work­ing with friend Ben White and the Nat­ur­al Guard Tree Com­pa­ny. Set­tling into island life I trained with our local San Juan Fire and Res­cue, with the EMS and Island Air Ambulance
House prices here were high so I bought a boat, a 1956 clas­sic wood­en sail­boat rec­om­mend­ed to me by Ana­cortes ship­wright Andy Stew­art. Learn­ing the islands waters I took friends sail­ing and they had such an amaz­ing­ly good time that it occurred to me to make this a busi­ness and help sup­port the boat's main­te­nance. I'd also been work­ing with the Whale Muse­um's Sound­watch Boater Edu­ca­tion pro­gram, with the Lime Kiln Point Hydrophone Sys­tem and then with Maya's Lega­cy Whale Watch as skip­per. So the back­ground was there for me to extend run­ning my sail­boat as a whale watch and islands tour boat. Pieces fur­ther came togeth­er when I met Bar­bara, who was excel­lent at whale iden­ti­fi­ca­tion and had pre­vi­ous­ly worked with the Cen­ter for Whale Research.
We began in earnest last year as a team tak­ing folks on day sails around the San Juan Islands and North into Cana­di­an waters: sight­see­ing edu­ca­tion­al fam­i­ly adven­tures. It's been more suc­cess­ful than we imag­ined, giv­ing peo­ple expe­ri­ences and mem­o­ries sail­ing with the winds and cur­rents, wit­ness­ing the intri­cate web of marine life and marine mam­mal cul­tures with which we share these islands.
We've made the life we want­ed, shar­ing our love of the ocean, our fas­ci­na­tion with whale cul­ture and con­tribut­ing to moti­vate the steps need­ing to be tak­en to increase their chance of sur­vival. It's very sat­is­fy­ing to have a job where our clients thank us say­ing "This is the best day of my life", "That was Epic!", "I'll remem­ber this day for­ev­er".
Our web site includes a pho­to diary of our trips and we like to send our pas­sen­gers a pho­to­graph­ic record of their day. We look for­ward to more inter­ac­tion and co-oper­a­tion with the cham­ber's mem­bers as we go into our next season."
Capt. David Howitt 360 298‑1918
Sail­ing Ves­sel PENIEL -
Spring Street Landing
685 Spring Street, #2020
Fri­day Har­bor, WA 98250
https://www.facebook.com/all.aboard.sailing
You can support the San Juan Update by doing business with our loyal advertisers, and by making a one-time contribution or a recurring donation.