Independent Bookstore Day
Posted April 21, 2016 at 5:55 am by Tim Dustrude
Grif­fin Bay Book­store invites you to cel­e­brate Inde­pen­dent Book­store Day on Sat­ur­day, April 30 and enjoy a 10% Storewide Sale on all Books.
Join in the Fun at Grif­fin Bay Book­store, Sat­ur­day, April 30 and help hon­or the rich and vital role that an inde­pen­dent book­store plays in the social and eco­nom­ic life of our com­mu­ni­ty. Stop in for cider and cook­ies, browse around and chat with staff and customers.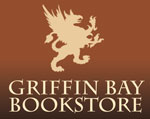 Grif­fin Bay Book Club mem­bers will set up shop with books they have read since the group first met in Octo­ber, 2007. Enthu­si­as­tic and ded­i­cat­ed book lovers, they will share their pas­sion for the writ­ten word, and dis­cuss what they've read and enjoyed, what they've learned, and how being a book club mem­ber has enriched and enhanced their read­ing, not to men­tion their lives. You'll get to hear first hand about the wide range of books and per­spec­tives they've encountered.
Thor Han­son will be on hand to sign books for those of you who want copies of The Impen­e­tra­ble For­est, Feath­ers, Seeds, and his lat­est book, Bartholomew Quill, a children's book about a curi­ous young crow.
April 30 is a day to hon­or the val­ue of an inde­pen­dent book­store in our com­mu­ni­ty; all across the coun­try indies are cel­e­brat­ing the incal­cu­la­ble role their book­stores play in the cul­tur­al, intel­lec­tu­al, and eco­nom­ic lives in their com­mu­ni­ties. Inde­pen­dent book­stores are beloved for not just con­nect­ing read­ers to books, but also to one another.
Yet many Amer­i­can book­stores, faced with dire eco­nom­ic and tech­no­log­i­cal con­di­tions, have fold­ed, leav­ing com­mu­ni­ties with­out their unique con­tri­bu­tions. Not to be undone, the sur­vivors have band­ed togeth­er, and are now re-assert­ing them­selves as a move­ment. And they are start­ing to rebound thanks to appre­cia­tive cus­tomers who walk in, who browse around the care­ful­ly cho­sen books on the shelves, who encounter knowl­edge­able and friend­ly staff, and, best of all, dis­cov­er some­thing unex­pect­ed, some­thing new and different.
Best­selling author Ann Patch­ett (Bel Can­to, State of Won­der, This is the Sto­ry of a Hap­py Mar­riage) felt so strong­ly about the val­ue of an inde­pen­dent book­store in Nashville that she jumped in to pre­serve one. Now the proud co-own­er of Par­nas­sus Books, she has writ­ten per­sua­sive­ly what it means to sup­port an inde­pen­dent bookstore.
She says of her store's suc­cess: "Maybe we just got lucky. But this luck makes me believe that chang­ing the course of the cor­po­rate world is pos­si­ble. Ama­zon doesn't get to make all the deci­sions; the peo­ple can make them, by choos­ing how and where they spend their mon­ey. If what a book­store offers mat­ters to you, then shop at a book­store. If you feel that the expe­ri­ence of read­ing a book is valu­able, then read a book. This is how we change the world: We grab hold of it. We change ourselves."
You can support the San Juan Update by doing business with our loyal advertisers, and by making a one-time contribution or a recurring donation.