Local Author Pens Modern Ghost Story
Posted April 18, 2016 at 5:41 am by Tim Dustrude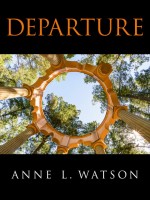 Ghosts walk the roads of mod­ern San Juan Island in "Depar­ture", the lat­est out­ing by local author Anne L. Watson.
The novel­la — part ghost sto­ry, part his­tor­i­cal nov­el, part fable — fea­tures Hen­ry, a work­er of the Roche Har­bor Lime & Cement Com­pa­ny, and Char­lotte, the young daugh­ter of a Fri­day Har­bor mer­chant, as they search for clues to how they died and why they haven't been tak­en off. Along the way, they try to under­stand the curi­ous changes in Island life and cus­toms in the time since they lived.
Depar­ture weaves island lore, human insight, and spir­i­tu­al wis­dom into a mag­i­cal tale of redemp­tion and ful­fill­ment. Ask for it at your favorite book­store, or buy it on Kindle.
For more infor­ma­tion on Anne and her books, vis­it www.annelwatson.com.
You can support the San Juan Update by doing business with our loyal advertisers, and by making a one-time contribution or a recurring donation.