News from OPALCO
Posted April 26, 2016 at 4:42 pm by Tim Dustrude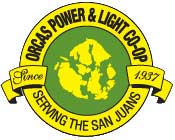 Opal­co Lead­er­ship Afffirms April 30, 2016 Elec­tion; New Pol­i­cy On Elec­tion Neu­tral­i­ty In The Works
At the reg­u­lar meet­ing of OPALCO's Board on Lopez Island last Thurs­day, Gen­er­al Man­ag­er Fos­ter Hil­dreth apol­o­gized to the six can­di­dates run­ning for board posi­tions and the mem­ber­ship as a whole for the inap­pro­pri­ate cam­paign endorse­ment sent by Rock Island Com­mu­ni­ca­tions last week. After much dis­cus­sion among the board and the more than 15 co-op mem­bers present, the Board passed a motion to stay the course on the April 30th board elec­tion and annu­al meet­ing and com­mit­ted to estab­lish­ing a clear pol­i­cy on elec­tion neu­tral­i­ty for all employ­ees, restrict­ing cam­paign activities.
The two incum­bent can­di­dates recused them­selves from vot­ing on the motion. Staff pre­sent­ed an esti­mate of the costs to resched­ule the elec­tion – approx­i­mate­ly $50,000 – and dis­cussed the logis­ti­cal chal­lenges. Board mem­bers and co-op mem­bers in atten­dance shared their opin­ions, raised ques­tions and aired out griev­ances regard­ing the chain of events and OPALCO's cur­rent elec­tion processes.
At the end of the dis­cus­sion, all but one of the can­di­dates agreed that it is not in the best inter­est of the Co-op to redo the election.
Hil­dreth thanked the Board, the mem­bers in atten­dance and espe­cial­ly the six can­di­dates for their civil­i­ty, respect­ful dis­course and kind­ness in address­ing a dif­fi­cult top­ic. "This Co-op is very close to my heart," he began. "I take it very seri­ous­ly and assure you that this will not hap­pen again."
Over the next sev­er­al months, the Board will review the entire board elec­tion process and activ­i­ties with new scruti­ny, promis­ing to solic­it mem­ber input. The ques­tions that came up at the meet­ing will be exam­ined, such as:
How does the nom­i­nat­ing process work?
Should OPALCO hold can­di­date forums?
How should incum­bents be list­ed on the ballot?
Should the tim­ing of can­di­date forums be changed?
Board Vice Pres­i­dent Vince Dau­ci­u­nas, who led the dis­cus­sion, assured those present, "This will be a thought­ful process that can't be rushed. We will report our progress at reg­u­lar Board meet­ings, post infor­ma­tion on our web­site and plan to have new poli­cies in place by the end of the year."
For the lat­est infor­ma­tion about OPALCO, go to: www.opalco.com.
You can support the San Juan Update by doing business with our loyal advertisers, and by making a one-time contribution or a recurring donation.