San Juan Islands Insider
Posted May 17, 2016 at 1:50 pm by Tim Dustrude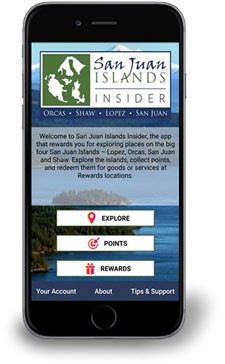 Explor­ing the islands?
There's an app for that…
Well — there's an app com­ing soon, like in about 2 weeks or so.
You may remem­ber from a pre­vi­ous post on the SJ Update, that Lopez res­i­dent, Tim Fry of 468 Com­mu­ni­ca­tions, won a por­tion of the grant from the EDC's Launch San Juan Islands busi­ness plan com­pe­ti­tion with his plan to cre­ate a visitor's app.
Well it's pret­ty much done now and just wait­ing for Apple and Google to run it through their approval process­es. Some­time very soon you will be able to get the app your­self from the iTunes app store or Google Play.
So what does it do exact­ly? It helps vis­i­tors once they're here, to explore the islands by award­ing points when they see and expe­ri­ence var­i­ous attrac­tions. Things like restau­rants, busi­ness­es, beach­es, parks, hikes, and oth­er des­ti­na­tions are shown on the app's Map. When a user vis­its one of these loca­tions, the app will know they are there (through the won­ders of GPS tech­nol­o­gy), and the user will then be able to tap on "Col­lect Points".
Points may then be redeemed for var­i­ous goods and ser­vices at par­tic­i­pat­ing busi­ness­es. In this way, the app is not mere­ly a Guide Map, but rather an incen­tive to get peo­ple out to see and expe­ri­ence the islands' attractions.
What's more, for many loca­tions, the app will have instruc­tions and guide­lines — Stay on trail, dogs on leash, or oth­er "leave-no-trace" tips will help ensure vis­i­tors know how to enjoy our local des­ti­na­tions with­out hav­ing too much of a neg­a­tive impact upon them.
The whole process for this start­ed a lit­tle over a year ago with an idea from Becky Smith, then direc­tor of the Lopez Cham­ber of Com­merce. It is now a group effort from the Cham­bers of Lopez, Orcas and San Juan Islands, and cur­rent­ly includes over 130 points of inter­est over all the islands.
More infor­ma­tion about the app is avail­able on this Overview brochure (PDF). View more screen­shots from the app below.
Tim Fry has been in the tech­nol­o­gy busi­ness for over 20 years. He has owned a home on Lopez for about 5 years and moved there per­ma­nent­ly from the Seat­tle area 2 years ago.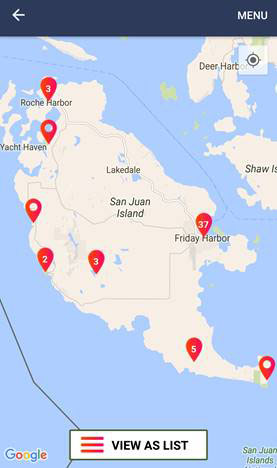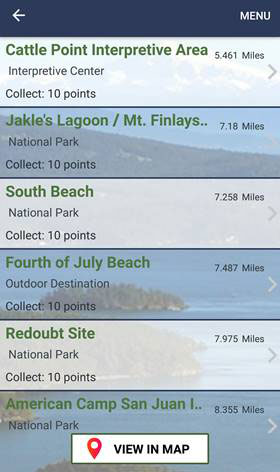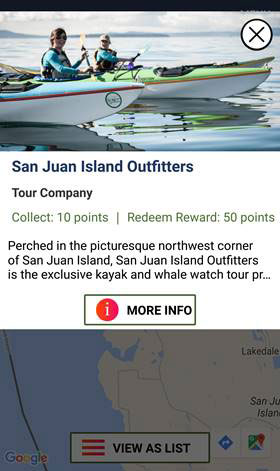 You can support the San Juan Update by doing business with our loyal advertisers, and by making a one-time contribution or a recurring donation.