The Avian Visitor
Cynthia Burke shares this cool story of a pigeon that came to visit…
Recently, on a sunny day, a beautiful bird decided to check out my husband's custom woodworking shop.  The bird flew into his shop, walked about on the saw table, proceeded to hop on to our Golden Retriever's back and carry on with a "What's Up" demeanor while the work crew stared in wonder.
This shop is noisy, full of loud machines, harsh edges and a multitude of shop dogs – not a place that would seem to invite this gentle bird.  Nonetheless, the bird appeared and wanted to stay.  My husband, Christopher, walked up and the bird immediately landed on his shoulder and a friendship was born.
Closing time, Christopher walked out to our car (bird stayed planted on his shoulder) drove home and walked into our house with this little visitor.  It really did not want to leave his side.
After the initial thrill of the moment, we called Wolf Hollow to ask advice.  They were helpful but unless it was injured there was nothing they could do.  We then checked the Internet for "what to do with lost pigeons" advice.  It counseled that the bird may be lost, to check for a leg band & it may be just tired and needed 24 to 48 hours of food, water and rest before it carried on it's way.
The pigeon had no tag on its leg so we set up a little space for it to eat & rest and recuperate for a day or two.  It loved the food (dried rice and grains) – drank up the water and then rested perched on one leg for the night.  Our dog basically showed little interest and the bird was quite at home.  However – if Christopher came close, the pigeon would quickly find a path to his shoulder or head or back  – somewhere near!
I have seen this before when hiking or out in nature, birds are comfortable around Christopher, taking food from him, landing on his head, shoulder – a lovely spectacle.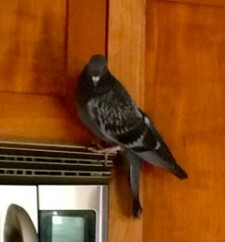 We kept the bird for a few days in our mudroom with the folding door slightly ajar.  Christopher would gently carry it outside and lift it up, trying to encourage it to take flight.  It basically did not want anything along those lines, being content to stay on its perch or near Christopher. We left the back door to the outside open and it would occasionally fly out only to return moments later.
The bird would lunch with us outside on the picnic table, trying to steal some of Christopher's food, and then return to it's perch inside soon after.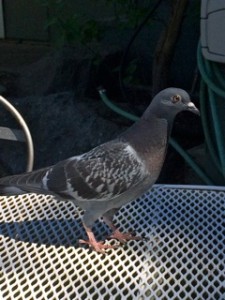 It was time though – we had no space for this lovely bird in our home and we had already seen some birds of prey scanning the area when the bird was outside. A friend, Debbie Dardenelli,  has a lovely outdoor aviary and offered to share it with our bird.  We drove out San Juan Valley Road, windows open & the bird perched on Christopher's shoulder watching the road and content.
When we arrived, the bird coop was located in a beautiful wooded area and housed chickens, ducks and pigeons.  We basically threw (gently) the bird into the coop as it did not want to leave Christopher. It was a sad and somewhat uncomfortable moment – leaving our new friend.  We drove away knowing we had made a good choice for the bird and were grateful for the few days we had with our little avian visitor – sweet, definitely lifted our spirits and connected us with the magic of nature a bit more intimately.
A footnote – the pigeon has embraced its new home and is loving its new family – Thanks to Debbie and Pete Dardanelli for offering this space for our little friend.  We plan to visit!