Chamber Chat
Posted June 16, 2016 at 5:48 am by Tim Dustrude
It's time once again for our month­ly Cham­ber Chat col­umn, writ­ten by Lau­ren Cohen, Co-Own­er of San Juan Can­vas & Cham­ber Board President…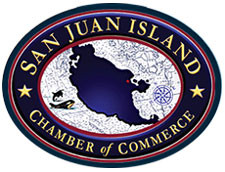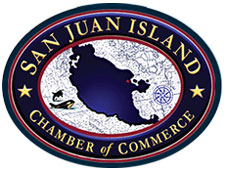 Here comes sum­mer and with the sea­son come the vis­i­tors. The sum­mer sea­son is a real­ly fun and ener­getic time on our island. It is a time to show off all that is excep­tion­al about this spe­cial place. All of us in busi­ness know how exhaust­ing the two or three months of tourists and sum­mer res­i­dents can be so I always like to keep this his­toric quote in mind dur­ing our six some­times sev­en day work weeks:
A cus­tomer is the most impor­tant vis­i­tor on our premis­es, he is not depen­dent on us. We are depen­dent on him. He is not an inter­rup­tion in our work. He is the pur­pose of it. He is not an out­sider in our busi­ness. He is part of it. We are not doing him a favor by serv­ing him. He is doing us a favor by giv­ing us an oppor­tu­ni­ty to do so. ~ Mahat­ma Gandhi
All of us at the Cham­ber of Com­merce wish our entire busi­ness com­mu­ni­ty a suc­cess­ful and pros­per­ous sum­mer sea­son. We encour­age our mem­bers to let us know if we can help pro­mote any­thing you are doing and please be sure that we have rack cards or brochures in the visitor's cen­ter for the many thou­sands of guests that come through dur­ing the season.
Con­grat­u­la­tions Graduates!
The Cham­ber of Com­merce Board of Direc­tors and Staff would like to con­grat­u­late our 2016 grad­u­ates from all of our won­der­ful schools. We wish you all the very best as you head into the next chap­ter of your lives.
Stu­dio Tour Kicks Off Summer
Con­grat­u­la­tions to all of the artists par­tic­i­pat­ing in the Artist's Stu­dio Tour this year. The incred­i­bly beau­ti­ful weath­er seems to have brought out a lot of vis­i­tors and locals too. I wish I could have got­ten to all of the venues but I was for­tu­nate enough to vis­it a few. It is a fan­tas­tic island event and all of us at the Cham­ber of Com­merce hope it was a great suc­cess for all involved.
June Cham­ber Social
Thank you to Deb­bie Dar­d­anel­li of Girl­friends Con­sign­ment and Yvonne Swan­berg of San Juan Vine­yards for host­ing the June Mem­ber Social. It was a love­ly evening at Debbie's cute shop where she served great appe­tiz­ers. Fan­tas­tic gold medal wines were pro­vid­ed by San Juan Vine­yards and great­ly enjoyed by all. Did you know there is a great selec­tion of men's trop­i­cal shirts? Are you look­ing for a cute new out­fit for the sum­mer? Vis­it Girl­friends Con­sign­ment at 210 Nichols. Do you need to stock up on some excel­lent wines for all of your sum­mer house guests? Vis­it San Juan Vine­yards at 3136 Roche Har­bor Road.
New Mem­bers
We would like to wel­come some new mem­bers to the Cham­ber of Com­merce who joined recent­ly. Some new busi­ness­es and some famil­iar. We are hap­py to have them join in as part of our cohe­sive com­mu­ni­ty of mer­chants. Be sure to visit.
Fea­tured Member
Con­grat­u­la­tions to Be Chic Bou­tique and own­er Kim Wick­man for being select­ed as our Fea­tured Mem­ber of the Month for June. Kim took over at Be Chic four years ago this sum­mer and has loved every minute of it. Her shop reflects her own excel­lent taste and pro­vides a lit­tle some­thing for every­one, men and women, locals and vis­i­tors. Be sure to vis­it Kim at 125 Spring Street. They are open 7 days a week.
Inde­pen­dence Day
The 4th of July is a wild and crazy day on San Juan Island and this year is shap­ing up to be the biggest one yet. Thanks to our very gen­er­ous spon­sors, Kings Mar­ket and The Town of Fri­day Har­bor, our parade and fire­works will be bet­ter than ever. These events that are beloved, par­tic­i­pat­ed in and attend­ed by our island com­mu­ni­ty and tourists alike need com­mu­ni­ty sup­port to hap­pen. Keep an eye out for an upcom­ing mail­er ask­ing for your sup­port to con­tin­ue these great traditions.
Until next month. Be sure to check our events cal­en­dar often for all of the fun and inter­est­ing events that go on all sum­mer long. Also keep an eye out for new busi­ness­es open­ing which will be cel­e­brat­ed with rib­bon cut­tings spon­sored by the Cham­ber of Com­merce and Town of Fri­day Harbor.
Hap­py sum­mer to our island busi­ness community.
You can support the San Juan Update by doing business with our loyal advertisers, and by making a one-time contribution or a recurring donation.