Bait Shop Open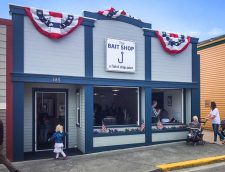 There's a new Fish & Chips bar in town. It's that place next door to Haley's on Spring Street. It's called The Bait Shop and it's owned by Bobby and Stacie Tangney – owners of Haley's. They just opened about 3 weeks ago and had their official Ribbon Cutting Ceremony 2 weeks ago.
It has an open air style with windows that open up to the sidewalk. They're open for lunch 7 days a week for now and probably in October or so they will evaluate and see what days to remain open for the fall and winter.
They serve Cod & Chips, Halibut & Chips, Shrimp & Chips, Tempura Chicken Nuggets & Chips, New England Clam Chowder, King Crab Bisque, Ice Cream, Sodas and Cookies.
Hours are 11:30 am to 3:00 pm, Sunday thru Thursday and 11:30 am to 6:00 pm Fridays and Saturdays.