Black Fish Bistro & Martini Bar
Posted August 16, 2016 at 3:43 pm by Tim Dustrude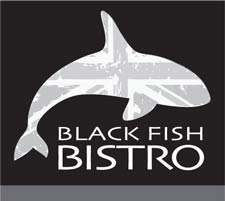 Black Fish Bistro & Mar­ti­ni Bar offi­cial­ly opens Wednes­day, August 17, and will fea­ture farm-to-fork and tide-to-table Pacif­ic North­west cui­sine with a rus­tic French flair.
The Bistro seats approx­i­mate­ly 40 cus­tomers upstairs and down­stairs, will be open from 5:00–11:00 p.m. Wednes­day through Sun­day, and is locat­ed in the alley off First Street, oppo­site The Bean. There are plans to open for lunch as soon as more staff are hired.
Menu items include local seafood (oys­ters, clams, mus­sels, crab, shrimp, salmon, etc.), warm and cold bistro sal­ads, gourmet sand­wich­es, steak pomme frites, a dessert selec­tion, and more. Local, fea­tured farms include Blue Moon Pro­duce, Jones Fam­i­ly Farms, Mama Bird Farm, Imag­ine Organ­ics Farm, and oth­ers in the future.
The upstairs craft cock­tail bar will serve mar­ti­nis rang­ing from clas­sic to sweet, as well as old and new world wines, and local and region­al beer, cider and spirits.
The restau­rant and culi­nary "start­ing team" includes own­er Hobbes Buchanan, Gen­er­al Man­ag­er Anna Lisa Lind­strum, Exec­u­tive Chef Joran Bouw­man, Chef Alphon­sine Haslet-Phillips, Sous Chef Desi Melen­dez, and Bar­tender Inness Davis.
"My dream has final­ly become real­i­ty," said Buchanan who was involved in the restau­rant indus­try in San Fran­cis­co before mov­ing to the San Juans in 2001. "I've been want­i­ng to open a restau­rant in the Islands for many years, to con­tin­ue to help put Fri­day Har­bor on the map as a food­ie des­ti­na­tion. My chef and restau­rant inspi­ra­tions have been Patri­cia Unter­man and Jacque­lyn (J.J.) Buchanan, Hayes Street Grill, San Fran­cis­co; Alice Waters, Chez Panisse, Berkley; Cindy Pawl­cyn, Mus­tards Grill, Napa; The Long Melford Swan in Suf­folk, Eng­land; and locals John and Joni Trum­bull of Ros­es Bak­ery Cafe in East­sound. Our new culi­nary team looks for­ward to serv­ing our Islanders and guests deli­cious food and drinks!"
Find more info at www.facebook.com/blackfishbistro.
You can support the San Juan Update by doing business with our loyal advertisers, and by making a one-time contribution or a recurring donation.