Black Fish Bistro & Martini Bar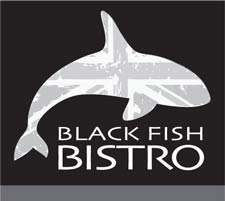 Black Fish Bistro & Martini Bar officially opens Wednesday, August 17, and will feature farm-to-fork and tide-to-table Pacific Northwest cuisine with a rustic French flair.
The Bistro seats approximately 40 customers upstairs and downstairs, will be open from 5:00-11:00 p.m. Wednesday through Sunday, and is located in the alley off First Street, opposite The Bean. There are plans to open for lunch as soon as more staff are hired.
Menu items include local seafood (oysters, clams, mussels, crab, shrimp, salmon, etc.), warm and cold bistro salads, gourmet sandwiches, steak pomme frites, a dessert selection, and more. Local, featured farms include Blue Moon Produce, Jones Family Farms, Mama Bird Farm, Imagine Organics Farm, and others in the future.
The upstairs craft cocktail bar will serve martinis ranging from classic to sweet, as well as old and new world wines, and local and regional beer, cider and spirits.
The restaurant and culinary "starting team" includes owner Hobbes Buchanan, General Manager Anna Lisa Lindstrum, Executive Chef Joran Bouwman, Chef Alphonsine Haslet-Phillips, Sous Chef Desi Melendez, and Bartender Inness Davis.
"My dream has finally become reality," said Buchanan who was involved in the restaurant industry in San Francisco before moving to the San Juans in 2001. "I've been wanting to open a restaurant in the Islands for many years, to continue to help put Friday Harbor on the map as a foodie destination. My chef and restaurant inspirations have been Patricia Unterman and Jacquelyn (J.J.) Buchanan, Hayes Street Grill, San Francisco; Alice Waters, Chez Panisse, Berkley; Cindy Pawlcyn, Mustards Grill, Napa; The Long Melford Swan in Suffolk, England; and locals John and Joni Trumbull of Roses Bakery Cafe in Eastsound. Our new culinary team looks forward to serving our Islanders and guests delicious food and drinks!"
Find more info at www.facebook.com/blackfishbistro.