Friends of the Library Annual Book Sale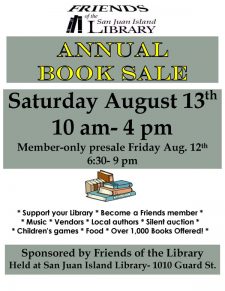 A reminder from the Friends of the Library… 
The annual Friends of the Library Book Fair is this weekend, August 12 and 13. On Friday, August 12th is our special presale for members only from 6:30-8:30. Not a member? You can also join on Friday evening in order to participate in that special sale.
On Saturday, August 13th , from 10-4 will be our Book Fair both in an outside the library.  Parking is available in the lot adjacent to the library.
In addition to our book sale will be special events and vendors. Jewelry sale at our Treasure Cove tent, fresh flowers with vases, snack items such as hot dogs, popcorn, sweets and water, musical entertainment, face painting and inside, silent auction items and three local guest speakers.
This is the Friend's major fundraiser of the year.  Helping to support the FOL is helping to support the library.  Many of the library's programs, special events, materials and supplies are supported by financial help from the Friends.
We have over a 1000 books!