Fall Farm Parade
Posted September 27, 2016 at 5:49 am by Tim Dustrude
The San Juan Island Grange is pleased to announce the 2016 Fri­day Har­bor Fall Farm Parade on Sat­ur­day Octo­ber 1. Now in its sixth year, the parade will once again depart the fair­grounds onto Argyle at 2:30, trav­el down Argyle, Spring Street, turn left on First Street, and ter­mi­nate at the Grange Hall.
Any­body with an inter­est in pro­mot­ing local farms and food may par­tic­i­pate in the parade. Walk­ers with signs, kids on bikes, chick­ens in wag­ons, goats on leash, trac­tors, farm trucks, hay wag­ons, rolling green­hous­es, scare­crows, hors­es of course, and any num­ber of oth­er expres­sions of sup­port have appeared in past parades. Peo­ple inter­est­ed in par­tic­i­pat­ing are asked to arrive at the fair­grounds between 1:30 and 2:00 on Sat­ur­day Octo­ber 1 to be mar­shaled into place in the parade.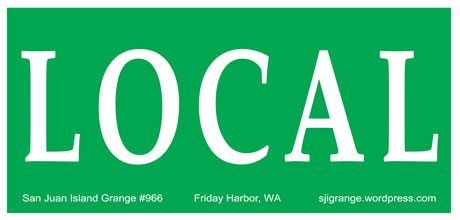 The theme for this year's parade is LOCAL, a ref­er­ence to the bumper stick­ers that have been appear­ing on island vehi­cles lately.
There will be an after-parade cel­e­bra­tion at the Grange Hall. Vis­i­tors may admire progress on our new deck, lis­ten to live music, pur­chase slices of pie, and pet some baby pigs from Sweet Earth Farm. There have been uncon­firmed rumors of a scare­crow out­break as well.
As part of Sat­ur­day's cel­e­bra­tion, the San Juan Island Food Co-op will show "Food for Change", an 82 minute doc­u­men­tary about the food co-op move­ment at the Grange Hall at 5:00PM.
Fur­ther infor­ma­tion may be had from Roger Elli­son, parade "coor­di­na­tor", at roger­granger [@] rockisland.com or 370‑5795.
Find us on Face­book: 2016 FRIDAY HARBOR FALL FARM PARADE
You can support the San Juan Update by doing business with our loyal advertisers, and by making a one-time contribution or a recurring donation.