In Remembrance of 9/11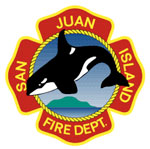 Sheila Harley, Public Information Officer of SJI Fire/Rescue shares this announcment…
Lest We Forget, the combined Emergency Services, elected officials, and veterans of San Juan Island will hold a short service in memory of all those who responded to the call that went out in New York City , Washington, DC, and Pennsylvania on the morning of September 11, 2001.
They were only doing the jobs they were trained for but we call them Heroes.
Come honor those Heroes from 10:30 AM to 11:00 AM on Sunday, September11, 2016 at the end of Spring Street over looking the water.