New Faculty Members at San Juan Center
Fall Quarter at the San Juan Center of Skagit Valley College begins Monday, September 19th.

The San Juan Center is pleased to welcome new faculty member, Jill McCabe Johnson. Jill will be teaching English Composition and writing courses. She is the author of two poetry collections, Diary of the One Swelling Sea, winner of a Nautilus Book Award, and Revolutions We'd Hoped We'd Outgrown, due out this fall, plus the nonfiction chapbook, Borderlines.
Jill was the Louise Van Sickle Fellow in Poetry at the University of Nebraska, where she received her PhD in English, and the Deborah Tall Memorial Fellow at Pacific Lutheran University, where she received her MFA in Creative Writing. Jill is the founding director of Artsmith, a non-profit to support the arts. She and her husband love to hike the islands, and cook together at their bed and breakfast on Orcas Island.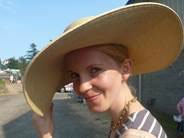 We are also pleased to announce that Jane Fox, a familiar face at the San Juan Center as our Ed Planner and Outreach Coordinator, will be expanding her duties to include instructor of literature and journalism within the academic year. Jane's educational and employment background include an MA in English Literature from University of St. Andrews, Scotland, as well as a Masters in Journalism and Major in Photojournalism from Boston University College of Communication.
Jane's journalistic background includes work with newspapers and magazines and she has received a number of awards and scholarships both in the United States and in Scotland.
Please join us for the "Cardinal Kick-Off" orientation day at the San Juan Center, Thursday, Sept. 15 with two orientations to choose from:
Morning schedule 10:00AM-11:30AM meet and greet, with lite lunch or
Afternoon schedule 12:30-2:00PM meet and greet, with lite lunch.
Please call 378-3220 or email (cathy.degnan@skagit.edu) to reserve your place at either morning or afternoon orientation.