October Reset
Posted September 18, 2016 at 5:45 am by Tim Dustrude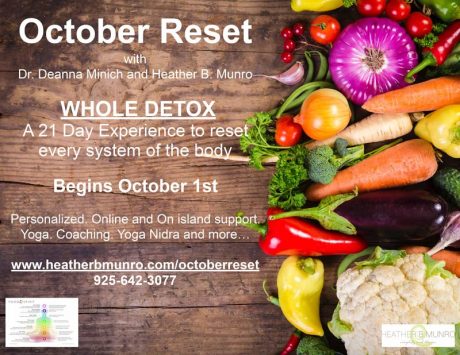 See how eat­ing the col­ors of the rain­bow can help you with a whole body detox and reset. Heather B. Munro will be host­ing a 21-day wholis­tic cleanse and detox for all of the sys­tems of your body using the teach­ings of Dr. Dean­na Minich.
Learn how dif­fer­ent col­ors of food affect your dif­fer­ent aspects, and how those aspects in turn affect parts of your body such as Adren­al Glands, Pan­creas, Thy­mus and Heart.
Because the sys­tems in your body are all con­nect­ed, this com­plete detox pro­gram is designed to renew your body, health, mind, and spir­it, rather than a sim­ple, one-dimen­sion­al approach that only tar­gets indi­vid­ual issues. It's 21 days dur­ing the month of October.
Heather is a yoga instruc­tor and nutri­on­al ther­a­pist who's been work­ing out of her loca­tion at Suri­na Busi­ness Park on Mal­colm Street for a year and a half. She moved to the island about 6 years ago after trav­el­ing all over the coun­try (and to New Zealand) learn­ing about yoga, hands-on gar­den­ing and nutri­tion. For more infor­ma­tion and to get in touch, check out her web­site.
You can support the San Juan Update by doing business with our loyal advertisers, and by making a one-time contribution or a recurring donation.