Williamson Elected Chairman of CBW
Brad Williamson, President and CEO of Islanders Bank was elected Chairman of the Board of the Community Bankers of Washington (CBW) during the group's annual meeting held September 16th in Vancouver WA.
Mr. Williamson is President and CEO of Islanders Bank and also serves as a Trustee and Treasurer of the San Juan Community Theater and is also a member and Chair of the Membership Committee of the San Juan Island Rotary Club. Brad is a native of the Northwest and has worked in community banking for almost 30 years, living and working in Tacoma and the Seattle area since 1987 before joining Islanders Bank in 2011.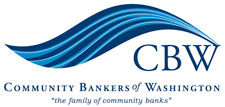 Islanders Bank is the only bank headquartered in San Juan County and has three branches located in Friday Harbor, Eastsound and the Lopez Village. Islanders Bank was founded in 1981 and is proud to be a Community Bank that serves the needs of San Juan County residents, municipal organizations and non-profit groups. Islanders helps provide services and funding to a wide variety of community charitable activities including low-income housing, education, health care and many other necessary community projects.
Other CBW Officers and Directors for 2016-2017 include:
Chairman-Elect: Neil Zick, President & CEO, Twin City Bank, Longview
Vice Chairman: Ron Wysaske, President & COO, Riverview Community Bank, Vancouver
Secretary: John Marvin, President & CEO, Raymond Federal Bank
Treasurer: Denise Portmann, President & CEO, Bank of the Pacific, Aberdeen
Past Chairman: Eric Sprink, President & CEO, Coastal Community Bank, Everett
ICBA State Director: Greg Deckard, President & CEO, State Bank Northwest, Spokane
President & Executive Director: John Collins, Olympia
Director: Dwayne Aberle, President & CEO, Security State Bank, Centralia
Director: Hal Russell, President & CEO, Commencement Bank, Tacoma
Director: Mike Sand, President & CEO, Timberland Bank, Hoquiam
Director: Daniel Lee, President & CEO, UniBank, Bellevue
Director: Rick Darrow, President & CEO, Liberty Bay Bank, Poulsbo
Director: Andy Hunter, President, SaviBank, Burlington
As the only trade association in Washington that advocates exclusively for independent community banks, CBW focuses on banking issues from a community banker's perspective. Known as the family of independent community banks, the Community Bankers of Washington was founded in 1989 to serve as a distinct and authoritative voice for community banks throughout the Evergreen State.