A Timely Forum on Medicare at the Mullis Center
Posted October 19, 2016 at 5:46 am by Peggy Sue McRae
By Peg­gy Sue McRae -
I turn 65 this year so I was very glad to hear about the free forum on Medicare that will be held at the Mullis Cen­ter on Wednes­day, Octo­ber 26. Even if you are not a medicare new­bie like me, you may want to take this oppor­tu­ni­ty to get an overview of changes to Medicare Part D Pre­scrip­tion Drug Insur­ance. Just say­ing "Medicare Part D" makes my eyes cross and my brain start to go numb. It can be con­fus­ing. Due to my age I've been get­ting lots of offi­cial look­ing mail marked "impor­tant Medicare infor­ma­tion" that turns out to be adver­tis­ing from insur­ance com­pa­nies. I'm relieved to have an oppor­tu­ni­ty to get some reli­able infor­ma­tion that I can have con­fi­dence in.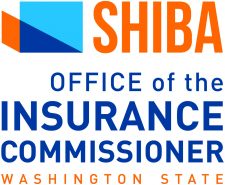 The forum will be led by SHIBA Vol­un­teer, Curt Van­Hyn­ing. SHIBA, (Statewide Health Insur­ance Ben­e­fits Advi­sors) is part of Wash­ing­ton state's con­sumer pro­tec­tion ser­vices. Our com­mu­ni­ty is lucky to have Curt's exper­tise. When my sis­ters and I moved our Mom into assist­ed liv­ing at The Vil­lage at the Har­bour, Curt helped us make sense of her health insur­ance. He also helped me obtain the health insur­ance I have now, all as vol­un­tary com­mu­ni­ty ser­vice. Curt helps peo­ple of all ages find their best health insur­ance options through the fam­i­ly resource cen­ter. At the 2‑hour forum on Octo­ber 26 there will be time for Q & A as well as access to indi­vid­ual con­fi­den­tial appointments.
The free Medicare Com­mu­ni­ty Forum will be held at The Mullis Cen­ter on Wednes­day, Octo­ber 26 from 2:00 pm to 4:00 pm.
You can support the San Juan Update by doing business with our loyal advertisers, and by making a one-time contribution or a recurring donation.