A Timely Forum on Medicare at the Mullis Center
By Peggy Sue McRae –
I turn 65 this year so I was very glad to hear about the free forum on Medicare that will be held at the Mullis Center on Wednesday, October 26. Even if you are not a medicare newbie like me, you may want to take this opportunity to get an overview of changes to Medicare Part D Prescription Drug Insurance. Just saying "Medicare Part D" makes my eyes cross and my brain start to go numb. It can be confusing. Due to my age I've been getting lots of official looking mail marked "important Medicare information" that turns out to be advertising from insurance companies. I'm relieved to have an opportunity to get some reliable information that I can have confidence in.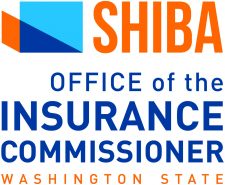 The forum will be led by SHIBA Volunteer, Curt VanHyning. SHIBA, (Statewide Health Insurance Benefits Advisors) is part of Washington state's consumer protection services. Our community is lucky to have Curt's expertise. When my sisters and I moved our Mom into assisted living at The Village at the Harbour, Curt helped us make sense of her health insurance. He also helped me obtain the health insurance I have now, all as voluntary community service. Curt helps people of all ages find their best health insurance options through the family resource center. At the 2-hour forum on October 26 there will be time for Q & A as well as access to individual confidential appointments.
The free Medicare Community Forum will be held at The Mullis Center on Wednesday, October 26 from 2:00 pm to 4:00 pm.