Fundraiser for Nikkie
Posted October 3, 2016 at 11:30 am by Tim Dustrude
Huge Com­mu­ni­ty Fundrais­er for local mom recent­ly diag­nosed with Stage 4 breast cancer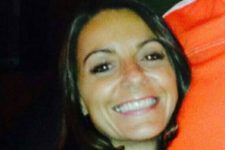 Islanders are being asked to come out this Sat­ur­day evening, Octo­ber 8 to sup­port long time Fri­day Har­bor res­i­dent Nicole Har­ling in her fight against "Bertha" – the nick­name she has giv­en her Stage 4 Metasta­t­ic Breast Cancer.
"I am com­plete­ly blown away by all the love and sup­port," said Nikkie in a recent face­book post. "Some­times it takes some­thing ter­ri­ble to make us remem­ber what's tru­ly important."
Nikkie is cur­rent­ly under­go­ing chemother­a­py treat­ments in Seat­tle and has revamped her diet and lifestyle to help fight her can­cer. Pro­ceeds from the fundrais­er will be donat­ed to Nikkie and her fam­i­ly to help with the costs of treat­ments, trans­porta­tion and oth­er necessities.
The fundrais­er is from 4 p.m. – 10 p.m. at the Mason­ic Lodge on the cor­ner of Sec­ond and Reed streets, above Sec­ond Act in Fri­day Har­bor. A din­ner of home­made ribs, bar­be­qued chick­en and side dish­es donat­ed by Cask & Schooner and Blue Water Restau­rant will be avail­able for a sug­gest­ed dona­tion of $20. There will also be a huge silent auc­tion fea­tur­ing many gen­er­ous­ly donat­ed items fol­lowed by a live auc­tion for amaz­ing pack­ages such as two sets of Sea­hawks tick­ets, fol­lowed by danc­ing and drinks with local's favorite band the JBOTS.
To donate or for more infor­ma­tion con­tact Stacey Smith at 360–317-5556 or check out the Com­mu­ni­ty Fundrais­er or Stop Bertha event page on Face­book. Mon­e­tary dona­tions can also be made through an account set up at Islanders Bank or at www.gofundme.com under Nicole Har­ling Can­cer Fund.
You can support the San Juan Update by doing business with our loyal advertisers, and by making a one-time contribution or a recurring donation.