Hospice on San Juan Island
Posted October 31, 2016 at 5:49 am by Tim Dustrude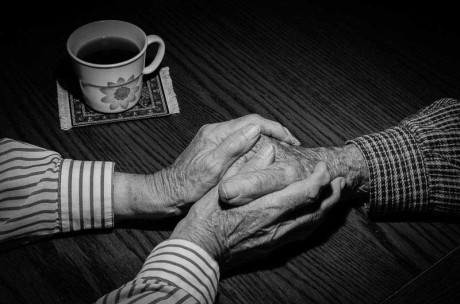 By Louise Dustrude
Fac­ing the end of life, most peo­ple would pre­fer to die at home sur­round­ed by their loved ones rather than in a hos­pi­tal hooked up to mod­ern-day machinery.
Hos­pice exists to help peo­ple make that choice.
The offi­cial Medicare-affil­i­at­ed Hos­pice of the North­west, in Mt. Ver­non, can pro­vide pain med­ica­tion. It offers doc­tors and nurs­es, pas­toral coun­sel­ing if desired, and var­i­ous therapies.
Medicare requires hos­pices to pro­vide a vol­un­teer com­po­nent, but it's obvi­ous­ly imprac­ti­cal for vol­un­teers to come here from the main­land — per­haps for a one-hour vis­it — and so we have a sec­ond group here, Hos­pice of San Juan, com­prised total­ly of volunteers.
There are cur­rent­ly 41 vol­un­teers, not all avail­able at all times of the year. The vol­un­teers have the choice to accept a par­tic­u­lar "case" or not for any reason.
They can pro­vide care­giv­er respite, help with chores, edu­ca­tion, var­i­ous ther­a­pies, grief sup­port, and a ser­vice called music and mem­o­ry for patients with demen­tia. Some will walk dogs; oth­ers will bring their dogs to bright­en the patien­t's day. They may dri­ve patients around the island or to med­ical appointments.
The two groups col­lab­o­rate in many ways to help their clients; and both have durable med­ical equip­ment to lend.
THE WORD "HOSPICE" comes from the same root as "hos­pi­tal­i­ty," not "hos­pi­tal," accord­ing to Mar­iluz Vil­la, M.D., who heads up the local vol­un­teer group.
Unfor­tu­nate­ly, some patients can't stay at home for one rea­son or anoth­er, and our local Peace­Health Peace Island Hos­pi­tal has a pleas­ant room set aside for hos­pice patients, but because of a bureau­crat­ic glitch it can't be used for that purpose.
A dying per­son on San Juan Island who needs to be hos­pi­tal­ized has to go to a main­land hos­pi­tal, away from friends and family.
Vil­la has been try­ing to make it pos­si­ble to use that room. She would even sup­port chang­ing our offi­cial Medicare hos­pice provider from Hos­pice of the North­west, based in Mount Ver­non, to What­com Hos­pice in Belling­ham because it already has a "cer­tifi­cate of need" con­nect­ed with St. Joseph's Hos­pi­tal, thus elim­i­nat­ing the bureau­crat­ic problem.
In every oth­er respect Vil­la is hap­py with the Mount Ver­non group, and would be hap­py to stay affil­i­at­ed with them if the hos­pi­tal's hos­pice room prob­lem could be overcome.
THE BEST TIME to access Hos­pice is as soon as a per­son has been diag­nosed. It offers "a great qual­i­ty of life for peo­ple going through some­thing that oth­er­wise is chal­leng­ing," accord­ing to Villa.
It offers an oppor­tu­ni­ty for peo­ple to con­sid­er their val­ues and assess what life goals they can still pur­sue. And it offers sup­port to their fam­i­lies and care-givers at a very stress­ful time.
####
» Edi­tor's Note: Some res­i­dents of San Juan Island may have become more aware of the ben­e­fits of hos­pice recent­ly when the woman who became a Face­book phe­nom­e­non under the title Dri­ving Miss Nor­ma came here as she neared the end of her life and entered the hos­pice pro­gram while liv­ing in her fam­i­ly's motor home.
She had giv­en her­self a year of adven­tures by opt­ing for a road trip instead of chemotherapy.
You can support the San Juan Update by doing business with our loyal advertisers, and by making a one-time contribution or a recurring donation.