Public Meetings Available online
Posted October 4, 2016 at 5:50 am by Tim Dustrude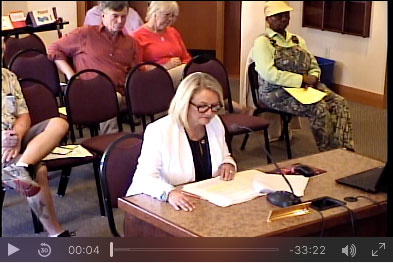 Sto­ry by Louise Dustrude
With the advent of afford­able live-stream­ing tech­nol­o­gy and a desire for increased trans­paren­cy in gov­ern­ment, San Juan Coun­ty and Fri­day Har­bor, like many oth­er juris­dic­tions in the Unit­ed States, have imple­ment­ed video access in recent years.
In a coun­ty like ours where many res­i­dents live on a dif­fer­ent island from the coun­ty seat, the abil­i­ty to view leg­isla­tive meet­ings in real time (or watch the record­ing lat­er) has allowed the pub­lic to become more engaged with local government.
Even many peo­ple liv­ing right on San Juan have embraced the con­ve­nience of watch­ing the local gov­ern­ment dis­cus­sions from their homes.
Now sev­er­al groups take advan­tage of the set-ups in the coun­ty leg­isla­tive meet­ing room — the Coun­ty Coun­cil, the Coun­ty Plan­ning Com­mis­sion, the Coun­ty Board of Health, the Pub­lic Hos­pi­tal Dis­trict, and occa­sion­al­ly oth­er groups such as Wash­ing­ton State Fer­ries — and the same sys­tem set up in town hall.
Coun­ty and Town videos are also archived to watch lat­er and sub­jects of inter­est can be watched sep­a­rate­ly. The agen­da is post­ed along­side on the video page with links to spe­cif­ic items where just that seg­ment can be viewed. A great time saver!
The State's Open Pub­lic Meet­ings Act encour­aged local gov­ern­ments to take this step, and the tech­nol­o­gy and afford­abil­i­ty made it pos­si­ble. Many large coun­ties in the state now offer live stream­ing of meet­ings, accord­ing to Ingrid Gabriel, Clerk to the Coun­ty Council.
The Coun­ty Coun­cil dis­cussed this pos­si­bil­i­ty dur­ing 2009 but were dis­cour­aged by the expense. Howie Rosen­feld, who was a mem­ber of the Coun­cil at that time, explains: "I had been urged by a Skag­it Com­mis­sion­er to come see their new hear­ing room. On one trip I had time and stopped by. Dur­ing the tour she showed me the stream­ing ser­vice they were using. I imme­di­ate­ly saw stream­ing as some­thing we need­ed and start­ed lob­by­ing my col­leagues. Cost was a big stum­bling block until then-Coun­cil Clerk Ann Lar­son found Chad Swan­son [a res­i­dent of Shaw Island] who was in the ear­ly stages of devel­op­ing the stream­ing ser­vice AV Cap­ture. He offered to use SJ Coun­ty for test devel­op­ment at low cost and that's how we were able to get started."
Accord­ing to Gabriel, "The amount of traf­fic on the stream­ing site varies accord­ing to the pub­lic inter­est in the top­ic. Dur­ing the Crit­i­cal Area Ordi­nance delib­er­a­tions the 'hits' eas­i­ly ran into the thou­sands in one month. San Juan Coun­ty videos are watched both in the coun­ty and world­wide, by res­i­dents at home, res­i­dents when they trav­el, and by peo­ple just inter­est­ed in what's hap­pen­ing with leg­is­la­tion in SJC. It's safe to say that since its incep­tion in 2009 view­er­ship has steadi­ly increased."
Gabriel says the sys­tem "has brought more cit­i­zens into engage­ment with the gov­ern­ment." Res­i­dents can get agen­das and also doc­u­ments for upcom­ing Coun­cil meet­ings from Gabriel by writ­ing her at ingridg@sanjuanco.com.
For agen­das of Board of Health meet­ings write Coun­cil Staff Assis­tant Susan Kol­let at sueko@sanjuanco.com. For Plan­ning Com­mis­sion meet­ings, write Lyn­da Guernsey at lyndag@sanjuanco.com. To get notices of meet­ings and agen­das for the Pub­lic Hos­pi­tal Dis­trict meet­ings write to Pam Hutchins at pamela@sjcphd.org. To get Town agen­das and notices of meet­ings write the Town Clerk, Amy Tay­lor, amyt@fridayharbor.org.
To watch the var­i­ous Coun­ty com­mit­tee meet­ings, go to sanjuanco.com, click on Com­mu­ni­ty and then Coun­cil Hear­ing Room Videos and select the one you want by date. For the Town of Fri­day Har­bor Coun­cil meet­ings go to fridayharbor.org and then to Council.
ospHH
You can support the San Juan Update by doing business with our loyal advertisers, and by making a one-time contribution or a recurring donation.