The Woman in Black
Posted October 14, 2016 at 5:53 am by Tim Dustrude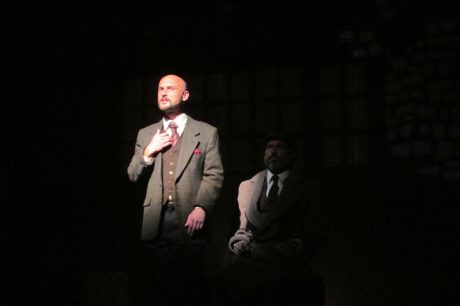 It will be a dark and stormy night (at least that's what fore­cast­ers are say­ing right now) … so what bet­ter way for islanders to expe­ri­ence it than find­ing THE WOMAN IN BLACK?
San Juan Com­mu­ni­ty Theatre's fall thriller opens this Fri­day, Octo­ber 14 at 7:30 pm in the Whit­ti­er The­atre. Steven Mallatratt's (from the book by Susan Hill) The Woman in Black is full of atmos­phere, illu­sion and con­trolled hor­ror. Its sto­ry cen­ters on an attor­ney (played by Floyd Bourne, right) who is obsessed with a curse that he thinks has been cast on his fam­i­ly. He hires an actor (Tyler Ryan) to tutor him in recount­ing to fam­i­ly and friends the sto­ry of that dark and stormy night he first encoun­tered the specter of "The Woman in Black."
Direc­tor Bob­by Ryan has assem­bled quite a behind-the-scenes crew of tech­ni­cal pro­fes­sion­als and vol­un­teers to help make sound and light­ing key char­ac­ters. He says the play­wright insists we draw from our imag­i­na­tions as we watch the sus­pense unfold and he promised we will be "torn between cov­er­ing our ears with fright and plead­ing to find out what hap­pens next."
The Woman in Black con­tin­ues Sat­ur­day at 7:30 and Sun­day at 2:00 pm and returns Octo­ber 20–23 and 27–29. Tick­ets are avail­able on-line at www.sjctheatre.org or the box office (378‑3210).
You can support the San Juan Update by doing business with our loyal advertisers, and by making a one-time contribution or a recurring donation.