WSF Halloween Costume Contest
Posted October 28, 2016 at 5:43 am by Tim Dustrude
Win­ners get a behind-the-scenes fer­ry tour on Monday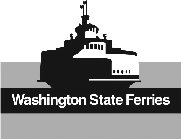 It is the fer­ry captain's job to get dressed in uni­form every morn­ing and take the wheel of one of the state's 22 fer­ries. This Hal­loween is a day like any oth­er for Wash­ing­ton State Fer­ries (WSF) cap­tains, except they're expect­ing a few witch­es, ghosts, gob­lins and maybe a junior cap­tain or two to join them aboard sev­er­al after­noon sailings.
On Mon­day, Octo­ber 31, from 3 p.m. to 6 p.m. WSF is encour­ag­ing all walk-on cus­tomers, young and old, to come aboard dressed for Hal­loween. On all sail­ings dur­ing this time, the cap­tain or a crewmem­ber will watch from the wheel­house and select their favorite cos­tume from the walk-on pas­sen­gers. The lucky win­ner will be invit­ed up to the wheel­house to meet the cap­tain for a behind-the-scenes tour of the ferry.
You can support the San Juan Update by doing business with our loyal advertisers, and by making a one-time contribution or a recurring donation.