Town of Friday Harbor seeks artists' proposals for park bench sculptures
Posted November 16, 2016 at 10:56 am by Tim Dustrude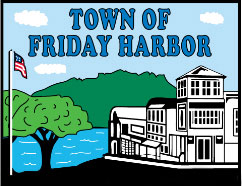 The Town of Fri­day Har­bor is accept­ing pro­pos­als for a park bench wildlife sculp­ture project spon­sored by the Fri­day Har­bor Arts Com­mis­sion (FHAC). The art­work is to be locat­ed at, on, or in asso­ci­a­tion with an exist­ing park bench at one of three loca­tions on Spring Street. The select­ed art­work will be avail­able for sale while on dis­play. Pro­pos­als will be accept­ed until Jan­u­ary 27, 2017.
The pro­pos­al appli­ca­tion states that the art­work is to depict local wildlife and is intend­ed to add beau­ty and inter­est to the down­town core as well as pro­vide an oppor­tu­ni­ty for local or area artists to dis­play their work in a pub­lic venue. The sites have been select­ed by the FHAC based on their high vis­i­bil­i­ty by vehi­cle and pedes­tri­an traf­fic. Addi­tion­al sites may be select­ed in the future.
Accord­ing to the pub­lished FHAC guide­lines, the art selec­tion process will include form­ing a sub-com­mit­tee of Com­mis­sion­ers and com­mu­ni­ty rep­re­sen­ta­tives who will review the sub­mis­sions and present select­ed pro­pos­als to the pub­lic for com­ment at an open forum. "The FHAC con­tin­ues to demon­strate our com­mit­ment to include the com­mu­ni­ty in the pub­lic art selec­tion process," said Com­mis­sion­er Diane Mar­tin­dale. She explained that the com­mis­sion wants all inter­est­ed cit­i­zens to voice their opin­ions and share in the excite­ment of bring­ing more art into the town.
All pro­pos­als will be con­sid­ered with pref­er­ence going to those from local artists. The FHAC will review and select one or more pro­pos­als to rec­om­mend to the Town Coun­cil. The Coun­cil will deter­mine the final selec­tion. Inter­est­ed par­ties should review the Request for Pro­pos­al (RFP) for the Park Bench Wildlife Sculp­ture Project at the Town web site: www.fridayharbor.org under "What's New".
The FHAC was formed in 2015 to advise the Town Coun­cil on the cul­ti­va­tion, selec­tion, acqui­si­tion, and place­ment of pub­lic art. Eight res­i­dents, includ­ing one stu­dent, are appoint­ed by the May­or to rep­re­sent the inter­ests of the Town, the com­mu­ni­ty, and local artists.
You can support the San Juan Update by doing business with our loyal advertisers, and by making a one-time contribution or a recurring donation.