Knowledge Bowl 2017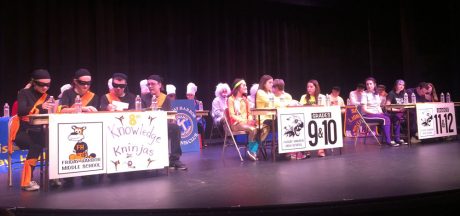 The 23rd annual Knowledge Bowl will be held on Monday, February 6, at the Community Theatre. Our fabulous Friday Harbor Jazz Band will begin performing at 6:30 and the FH High School PTA will be offering baked treats in the lobby before and during the event.
The competition begins at 7 PM. Teams consist of the 8th graders, a team of freshmen/sophomores, and one of 11th and 12th graders, going head to head with 4 local service group teams: Kiwanis, Soroptimists, Lions, and Rotary. Groups will match wits to answer tricky questions on a range of topics. The event is emceed this year again by Brent Snow, School Board member, with entertainment during intermission by the Jazz Band.
The Knowledge Bowl is presented each year by the San Juan Public Schools Foundation. Through its main fundraising events, the Phone-a-Thon and Business Partnership Program in the school directory, the Foundation this year has donated over $100,000 to supplement our local public education needs!
Tickets for this fun family event are $5.00 for adults and $3.00 for kids, and are available at the door the night of the event. Come and cheer on your favorite team!!