Rescheduled: Knowledge Bowl 2017
Posted February 14, 2017 at 3:47 pm by Tim Dustrude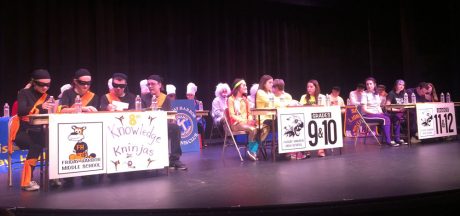 After hav­ing to can­cel last week due to weath­er, the Knowl­edge Bowl has been rescheduled…
The 23rd annu­al Knowl­edge Bowl will be held on Mon­day, March 6, at the Com­mu­ni­ty The­atre. Our fab­u­lous Fri­day Har­bor Jazz Band will begin per­form­ing at 6:30 and the FH High School PTA will be offer­ing baked treats in the lob­by before and dur­ing the event.
The com­pe­ti­tion begins at 7 PM. Teams con­sist of the 8th graders, a team of freshmen/sophomores, and one of 11th and 12th graders, going head to head with 4 local ser­vice group teams: Kiwa­nis, Sorop­ti­mists, Lions, and Rotary. Groups will match wits to answer tricky ques­tions on a range of top­ics. The event is emceed this year again by Brent Snow, School Board mem­ber, with enter­tain­ment dur­ing inter­mis­sion by the Jazz Band.
The Knowl­edge Bowl is pre­sent­ed each year by the San Juan Pub­lic Schools Foun­da­tion. Through its main fundrais­ing events, the Phone-a-Thon and Busi­ness Part­ner­ship Pro­gram in the school direc­to­ry, the Foun­da­tion this year has donat­ed over $100,000 to sup­ple­ment our local pub­lic edu­ca­tion needs!
Tick­ets for this fun fam­i­ly event are $5.00 for adults and $3.00 for kids, and are avail­able at the door the night of the event. Come and cheer on your favorite team!!
You can support the San Juan Update by doing business with our loyal advertisers, and by making a one-time contribution or a recurring donation.