Tides: The Science and Spirit of the Ocean
Posted February 8, 2017 at 5:53 am by Tim Dustrude
Grif­fin Bay Book­store, in Col­lab­o­ra­tion With The San Juan Island Library and The San Juan Preser­va­tion Trust presents: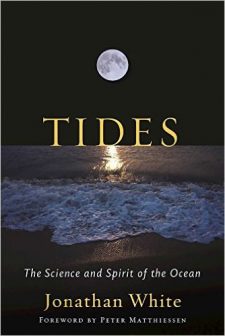 TIDES: The Sci­ence and Spir­it of the Ocean
By Jonathan White
Sun­day, Feb­ru­ary 19, 7:00 pm
San Juan Island Library
1010 Guard Street
Expert mariner and marine con­ser­va­tion­ist Jonathan White's love for the sea is life­long. He grew up div­ing, sail­ing and fish­ing on the beach­es of South­ern Cal­i­for­nia, has logged more than one hun­dred thou­sand miles sail­ing on the Pacif­ic and Atlantic, and has surfed all over the world.
In the 1980s, he found­ed the Resource Insti­tute, a non­prof­it edu­ca­tion­al orga­ni­za­tion for which he host­ed a renowned sem­i­nar series aboard Cru­sad­er, a 65-foot wood­en schooner that sailed the Pacif­ic North­west. Crusader's odysseys near­ly end­ed, how­ev­er, in 1990 when the boat ran aground and was near­ly destroyed on a large tide in Alaska's Kalin­in Bay. Shak­en and intrigued by his under­es­ti­ma­tion of tides and their pow­er, White set off on a quest across the globe to under­stand the his­to­ry, sci­ence, and majesty of one of our planet's most remark­able phenomena.
In Tides: The Sci­ence and Spir­it of the Ocean White takes read­ers on a jour­ney of dis­cov­ery around the globe to wit­ness the largest, fastest, scari­est and most amaz­ing tides in the world; he trav­els to the Arc­tic to shim­my down a hole in the ice with an Inu­it elder to hunt for blue mus­sels in the dark cav­i­ties below; to the Qiantang Riv­er in Chi­na to wit­ness the Sil­ver Drag­on, a twen­ty-five-foot tidal bore that crash­es its way up the eighty-mile riv­er; to Cal­i­for­nia to shad­ow the Mav­er­icks com­pe­ti­tion where surfers pad­dle into dead­ly waves six­ty feet high. In France's Mont St. Michel he learns how the monks were inspired by the tide; at the Roy­al Soci­ety of Lon­don he dis­cov­ers how Pla­to and Aris­to­tle, Leonar­do de Vin­ci, New­ton, Descartes, and many oth­er not­ed thinkers had been cap­ti­vat­ed by the tide's mys­tery, and learns that the book that led to Galileo's arrest for heresy by the Catholic Church was a trea­tise orig­i­nal­ly called The Flux and Reflux of the Tides.
White also demon­strates how, in this age of dras­tic glob­al cli­mate shifts, tides offer crit­i­cal insight into the planet's future. On the San Blas Islands off the coast of Pana­ma, we see how the small island arch­i­pel­ago con­fronts sea lev­el rise, and in Venice, Italy, how the city has been mak­ing extra­or­di­nary prepa­ra­tions for the com­ing effects of cli­mate change. White also dis­cuss­es ongo­ing research into the enor­mous oppor­tu­ni­ty to har­ness tidal ener­gy in places like New Eng­land, Chile, Puget Sound, Scot­land, and elsewhere.
Tides com­bines lyri­cal prose, col­or­ful adven­ture trav­el, and provoca­tive sci­en­tif­ic inquiry into the ele­men­tal, mys­te­ri­ous para­dox that keeps our planet's waters in con­stant motion.
About the author
Jonathan White is a writer, con­ser­va­tion­ist, sailor, and edu­ca­tor. He has served on numer­ous con­ser­va­tion boards and com­mit­tees, includ­ing the San Juan Preser­va­tion Trust, the San Juan Coun­ty Marine Resources Com­mit­tee, and the North­west Straits Marine Con­ser­va­tion Ini­tia­tive. His first book, Talk­ing on the Water: Con­ver­sa­tions about Nature and Cre­ativ­i­ty, fea­tures inter­views with Gre­tel Ehrlich, David Brow­er, Ursu­la K. Le Guin, Gary Sny­der, Peter Matthiessen, and oth­ers. His writ­ing has appeared in the Chris­t­ian Sci­ence Mon­i­tor, The Sun, Sier­ra, the Whole Earth Review, and Fine Home­build­ing. The for­mer pres­i­dent of the Resource Insti­tute, a Seat­tle-based non­prof­it focus­ing on the cul­ture and tra­di­tions of the North­west, he now lives on Orcas Island, Washington.
You can support the San Juan Update by doing business with our loyal advertisers, and by making a one-time contribution or a recurring donation.