Parks Report Part Two
Posted March 3, 2017 at 5:48 am by Tim Dustrude
The trails and open spaces on the island are pop­u­lar with both res­i­dents and vis­i­tors, but they don't just appear out of nowhere. Where does the mon­ey come from to keep them open? What can mem­bers of the pub­lic do to help? This is the sec­ond in a series of reports by Louise Dus­trude try­ing to answer those questions.
State Parks

In 2009 the state leg­is­la­ture, with rev­enues falling as a result of the eco­nom­ic crash, vot­ed to cut gen­er­al fund sup­port for State Parks and instead told them to "run the parks like a busi­ness", accord­ing to San Juan Area Man­ag­er Chris Guidot­ti. Chris over­sees Lime Kiln Point, Moran, and Spencer Spit State Parks, plus 13 marine parks.
The Dis­cov­er Pass, a vehi­cle access pass which costs $10 per day or $30 per year, was insti­tut­ed as a way of fund­ing State Parks. Unfor­tu­nate­ly, sales of the pass did not ful­ly replace the gen­er­al fund mon­ey that the leg­is­la­ture cut. As a result, approx­i­mate­ly 40% of State Park Staff were either laid off or had their year-round posi­tions changed to sea­son­al. The remain­ing staff had to scram­ble to main­tain the parks.
State Parks adopt­ed a trans­for­ma­tion strat­e­gy to deal with the leg­isla­tive direc­tion. The strat­e­gy focus­es on find­ing more effi­cient ways of doing busi­ness as well as rely­ing more heav­i­ly on part­ner­ships and vol­un­teers. It also focus­es on ways to increase rev­enues. This has led to vari­able pric­ing for camp­ing, high­er fees and explor­ing oth­er ways to gen­er­ate rev­enue with things like cab­ins and "glamp­ing." Moran State Park on Orcas is a "pilot" for adver­tis­ing in parks, accord­ing to Chris, although so far it is low-key and local.
But he asks: "How far can this go before the pub­lic los­es the sense that the parks belong to us all and before many fam­i­lies are total­ly priced out of the park experience?"
The leg­is­la­ture real­ized last year that parks are not "a busi­ness" and can­not be oper­at­ed like one, and so some of the nec­es­sary fund­ing has been restored.
Lime Kiln Point State Park now has two full-time, year-round rangers and a cou­ple of part-time sum­mer peo­ple; this small staff is also respon­si­ble for a num­ber of the small island marine parks in the coun­ty. That means main­tain­ing water sys­tems, road sys­tems, elec­tri­cal sys­tems, and trails, and it does­n't leave much time for inter­act­ing with the public.
"Peo­ple like to see a ranger in the park," David Halpern said, "but that does­n't hap­pen when the rangers are busy in the office, or busy clean­ing the toi­lets." Halpern is one of the two rangers at Lime Kiln.
Many state parks, like the nation­al parks, have turned to the use of volunteers.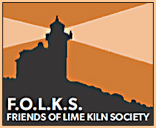 One employ­ee who lost her job here in 2009, Erin Cor­ra, remained com­mit­ted to the park. She start­ed a vol­un­teer group, F.O.L.K.S. (Friends of Lime Kiln Soci­ety), which recruits vol­un­teers to help the park in a vari­ety of ways, includ­ing light­house tours and staffing the vis­i­tor cen­ter dur­ing the sum­mer sea­son. Any­one who would like to help can check out their web site: folkssji.org.
Any­one inter­est­ed in vol­un­teer­ing for con­struc­tion projects or main­te­nance might approach the park office directly.
Both Chris and David empha­sized that the parks could­n't func­tion with­out the many vol­un­teers who have stepped up. "We're just so grate­ful to them," Chris said. "It's how we keep the gates open."
Lime Kiln draws vis­i­tors pri­mar­i­ly for the oppor­tu­ni­ty to see orca whales close to shore, and for the whale talks by Dr. Bob Otis through­out the sum­mer months. Addi­tion­al­ly there are lime kilns and lime­stone quar­ries and a net­work of hik­ing trails which con­nect with trails on the adjoin­ing Land Bank Limekiln Preserve.
You can support the San Juan Update by doing business with our loyal advertisers, and by making a one-time contribution or a recurring donation.