Improvements at Spring Street International School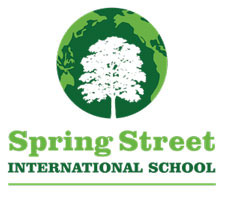 Spring Street International School is pleased to explain the many activities recently visible on its grounds. These are all outward expressions of the success of the high-quality programs available to local and off-island families. The school has grown to 100 students, a cap set by its strategic plan to maintain its small, rural community atmosphere.
First, a big landscaping project is being completed following a design by Island Gardens that beautifies and unifies the campus with native plants. Most of the work has been by volunteers, and plants were bought with the aid of the Nash family, who own the property on which the school sits. Second, on the lower corner of the property is an elegant rock sculpture by alumna parent Tom Small (who generously donated his labor, and also made the lovely stone bench for the town's new pocket park) with the school's name and logo carved into it.
And finally, less visible from Spring Street, there is new construction going up —a Studio Building.
This structure symbolizes the school's dedication to artistic creativity, which is integral to a secondary education—not just an adjunct to it. The new Studio will be large enough (1230 sq. ft) to allow a full visual arts program that complements the drama and video programs. SSIS Studio Art teacher Taylor Bruce has long dreamed of "a new space to house the many disciplines that constitute a rich art program, a meeting place for visiting artists willing to share their creative visions with our students and our island communities." By comparison, the current art classroom is so small that Taylor has had to crawl beneath easels to reach individual students!
The new building will be similar in size and historic appearance to the double-classroom building constructed in 2012. Nestled at the back of the campus, it will have some surfaced area for outdoor projects. When not used for art, the flexible interior space will serve as another badly-needed room for classes including drama and music, eliminating the need for an additional building. This combined use will help minimize build-out on Spring Street's campus, preserving green space for play, gathering, outdoor programs, and aesthetics.
Locally renowned architect David Waldron is the Studio Building designer. Project coordination is by SSIS parents in the construction business, with many materials donated by friends of the school. Financing comes from private donations and small grants. The school's budget is too lean to support new construction—especially since over 70% of its local students receive financial aid to enable them to attend. The school envisions this structure benefiting the entire island community, e.g. as a shared art space for programs after school, in the evenings, and in summers.
If you are interested in learning more about the school or donating to the Studio construction campaign, please call 360-378-6393 or visit http://www.springstreet.org/.