Pastel Painting with Steve Hill
Posted July 24, 2017 at 5:54 am by Tim Dustrude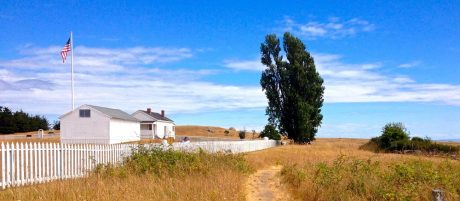 Lopez artist Steve Hill taught a work­shop on pas­tel paint­ing at three San Juan loca­tions over the week­end. He intro­duced pas­tel tech­niques on Fri­day at the SJ Islands Muse­um of Art, and then encour­aged par­tic­i­pants as they paint­ed "en plein air" on Sat­ur­day and Sunday.
In the pic­ture above, stu­dents paint­ed in the shade of a white umbrel­la or the poplar trees near the offi­cers' quar­ters at Amer­i­can Camp on Sat­ur­day. Below, Jude Hen­nen chose the shade under the black locust trees near the Amer­i­can Camp vis­i­tor cen­ter, and Dianne Hall got up close to the col­or­ful plants at the Pelind­a­ba Laven­der Farm on Sun­day. Also par­tic­i­pat­ing were: Malin­da Dry­er, Edith Thomp­son, Maia Yip, Martha Spiek­er, Coral Lehti­nen, Mary Navar­ro, Patri­cia Slabugh, Susan Strick­er and Solange LeFranc (from France).
Sto­ry and pho­tos by Louise Dustrude
You can support the San Juan Update by doing business with our loyal advertisers, and by making a one-time contribution or a recurring donation.