Pies o' Plenty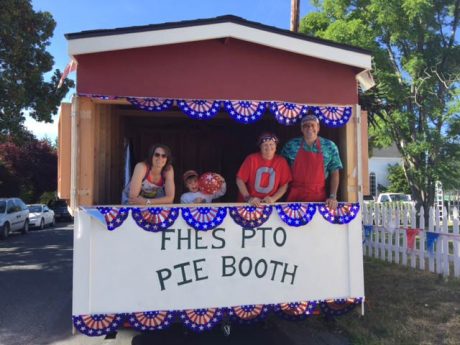 Who Loves Pie? Calling All Pie Bakers!
Bake your favorite fruit pie! Not a baker? Help serve slices at the Fair!
The BRAND NEW FHES PTO Pie Booth debuts at the County Fair, August 16 – 19, and we need pies o' plenty to sell and people to sell them!
There are two ways you can help:
Bake pies at home to donate or serve pie in the Pie Booth (or BOTH!)
Baking pies at home:
Bake your fruit pies at home and bring them to the Fair. Disposable 9" pie tins will be available for pick up at the school district office (285 Blair Avenue, across from Tina's Tacos) starting August 3 from 9am – 3pm.
If you want to bake pies at home, please use this link to sign up for a drop off day
Serving pies at the Pie Booth:
Please use this link to help us serve up slices in the Pie Booth August 16 – 19
Questions? Call or text our cell phones or via email:
Alli Moalli (530) 409-9469 or allimoalli@gmail.com
Tanja Williamson (360) 472-0337 or tanjawilliamson@mac.com
Thank YOU for helping with the biggest fundraiser for Friday Harbor Elementary School kids!