Merri Ann's Real Estate News
Here's an update from Merri Ann Simonson on the local real estate market…
The third quarter results for San Juan Island and the County were consistent with the market recovery we have enjoyed over the last few years. Per the NWMLS, the dollar volume on San Juan Island was $102,639,659 with a total of 198 transactions.
This reflects a 21% increase in the dollar volume and an 18% increase in the number of transactions. For San Juan County, the total dollar volume was $202,326,283 with a total of 399 transactions. The County's gain was 18.3% in dollar volume and 10% in the number of transactions.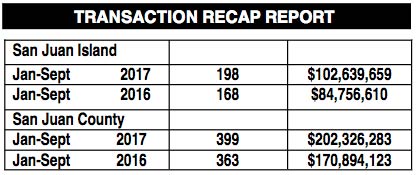 Since 2014, the increase in dollar volume each year has been steady and in the range of 12% to 16.5% at year-end. This year-end should be very similar.
Continue reading here (PDF)