Nuts are Still Available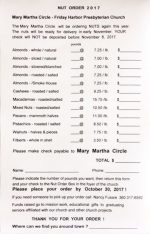 Nancy Fusare writes to let you know about the Presbyterian Church ladies group Mary Martha Circle annual nut sale.
You can contact her directly at (360) 317-6592 to place your orders. Or, order forms are also available at the Presbyterian Church.
Nancy adds that you can still get these in time for Christmas baking.