The Seven Joys of Christmas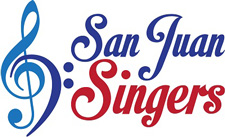 The San Juan Singers celebrate Christmas and the winter season in songs and carols.
The anchor piece is "The Seven Joys of Christmas," by Kirke Mechem, accompanied by a small chamber ensemble. The Joy of Love, the Joy of Bells, the Joy of Mary, the Joy of Children, the Joy of the New Year, the Joy of Dance, the Joy of Song: each one of these Joys is represented by a Christmas carol or winter anthem in this suite of songs.
This concert is filled with beautiful and sometimes amusing settings of familiar carols and anthems, poems and songs of the season of joy.
Songs by local composers Mary WillAllen, Teddy Deane, and Richard Hieronymus will be featured.
Saturday, December 9th at 7:30 pm and Sunday, December 10 at 2:00 pm at the San Juan Community Theatre.
Tickets:
Adults $20.00
Student Reserved $10 (tax included)
Student RUSH $5 at door only
The Business Partner for this production is Lake Kennedy McCulloch CPAs