Mayor Appoints Oakes and Umierski to Arts Commission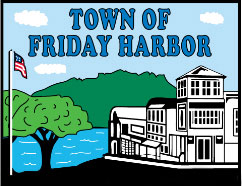 The Town is pleased to announce the appointment of Cloud Oakes and Christopher Umierski to the Friday Harbor Arts Commission (FHAC). Oakes is a working studio artist who previously served on the boards of the San Juan Community Theatre and San Juan Island County Parks. She was involved with the original San Juan Museum of Art and was responsible for the creation of the local food co-op and the Community Theatre's Children's Theatre. "I hope to provide an important link between the artists of the island and the Town's willingness to support local artisans," Oakes explained in her introductory letter.
Umierski previously organized and hosted community events at his art studio in Tyler, Texas, before relocating to the island this past summer, and says he would like to bring this kind of energy to Friday Harbor. "I have a passion for community and public art," he stated in his introductory letter. In addition to holding multiple studio assistant positions with professional artists, his background includes organic farming and the study of art and science. He is currently working on a series of ceramics, drawings, and paintings.
The newly appointed members of the eight-person commission will serve three-year terms commencing January 1, 2018. Members of the FHAC represent the interests of the Town, community, and local artists and advise the Town Council on the cultivation, selection, acquisition, and placement of public art.