Port Commission Meeting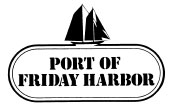 Tomorrow, Wednesday January 10th, the Port of Friday Harbor Commissioners will meet to discuss among other things, the FAA requirement of removing trees and obstructions from the area south of the runway. This is required for the airport to maintain its IFR (Instrument Flight Rating) which is necessary for Airlift Northwest to be able to fly in and out of here in inclement weather.
Similar obstruction removal was recently conducted at both the Orcas and Lopez airports.
There will be a public comment period during the meeting. See the full agenda at this link.
The meeting will take place at 4:00 pm at Spring Street Landing, 10 Front Street, Suite #105 (that's down below Downriggers Restaurant).