Port Commission Meeting
Posted January 9, 2018 at 2:43 pm by Tim Dustrude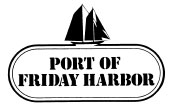 Tomor­row, Wednes­day Jan­u­ary 10th, the Port of Fri­day Har­bor Com­mis­sion­ers will meet to dis­cuss among oth­er things, the FAA require­ment of remov­ing trees and obstruc­tions from the area south of the run­way. This is required for the air­port to main­tain its IFR (Instru­ment Flight Rat­ing) which is nec­es­sary for Air­lift North­west to be able to fly in and out of here in inclement weather.
Sim­i­lar obstruc­tion removal was recent­ly con­duct­ed at both the Orcas and Lopez airports.
There will be a pub­lic com­ment peri­od dur­ing the meet­ing. See the full agen­da at this link.
The meet­ing will take place at 4:00 pm at Spring Street Land­ing, 10 Front Street, Suite #105 (that's down below Down­rig­gers Restaurant).
You can support the San Juan Update by doing business with our loyal advertisers, and by making a one-time contribution or a recurring donation.