Special School Board Meeting
Posted January 10, 2018 at 5:41 am by Tim Dustrude


On Wednes­day Jan­u­ary 10, 2018, the San Juan Island School Dis­trict Board of Direc­tors will hold a Spe­cial School Board Meet­ing at 5:00 pm in the Dis­trict Office. This is an open pub­lic meeting.
All pub­lic com­ment, with the excep­tion of pub­lic hear­ings on pol­i­cy, bud­get or oth­er spe­cif­ic items, will be heard dur­ing the "Pub­lic Com­ment" sec­tion of the Call to Order. Any­one wish­ing to address the board on any top­ic will be sched­uled to speak dur­ing the pub­lic com­ment peri­od by the Admin­is­tra­tive Assis­tant present at the board meet­ing. Check in to be sched­uled to speak will occur dur­ing the 15 min­utes before the start of the meet­ing.
Please see the agen­da below, or access Board­Docs from our web­site at www.sjisd.wednet.edu (then locate the Board­Docs School Board agen­da access). Or go straight to the agen­da itself at https://www.boarddocs.com/wa/sjisd/Board.nsf/Public
This is a quick look at the board agen­da for your convenience: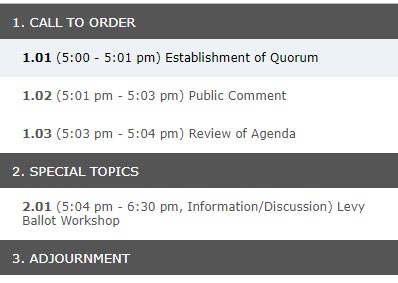 You can support the San Juan Update by doing business with our loyal advertisers, and by making a one-time contribution or a recurring donation.