Singing Valentines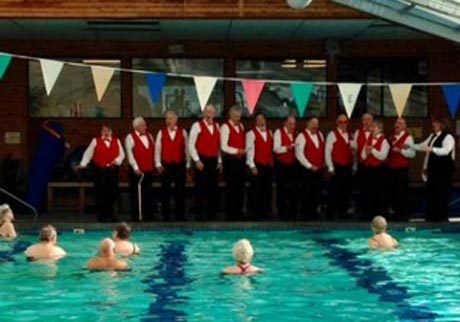 Valentines are not just for sweethearts; they are a caring gesture for anyone you cherish. And to help you express your affections, our entire chorus will arrive at your home, business or at your dinner date in our snappy costumes, with a fresh rose and a couple of special songs to serenade one, two or multitudes!
The "Island Chordsmen Plus" is an A Cappella group as well as a Barbershop chorus and offer both contemporary love songs like "Can You Feel the Love Tonight"; John Denver's "Annie's Song" or "Forever and Ever, Amen" by Randy Travis, as well as classic Barbershop songs like "Let Me Call You Sweetheart" and "Only a Rose."
If you think you have all your Valentines needs covered, consider providing a singing treat for someone in a care facility, perhaps someone you don't know, but who may no longer have a sweetheart to remember them.
We'll be singing on Saturday, February 10th and Valentine's Day, February 14th anywhere on San Juan Island. Call Holly at (360) 370-5544 or (360) 298-4682 to reserve a spot or for more information.