We're Back…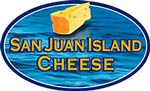 Re-opening of San Juan Island Cheese, Thursday, March 1, 2018 Open Tuesday through Saturday, 11 to 3, and closed Sunday and Monday.
We are very proud to announce that we have a new Chef at San Juan Island Cheese! Chef Bill brings 20+ years of professional experience and creativity to our kitchen and your table. He is passionate about good food and loves to share his passion with others.
After graduating from culinary school in San Francisco, Chef Bill Messick began his cooking career at Rover's in Seattle. He has gained valuable experiences working as chef at various fine dining establishments such as La Tour in Vail, Colorado, and most recently, he has joined us after 6 years as Executive Chef at Coho Restaurant in Friday Harbor.
Originally from Utah, Chef Bill now calls beautiful San Juan Island home. "I am ready to come out of hibernation and start cooking!" From Bill's kitchen to your table, we're thrilled to have Bill on our team!
What is San Juan Supper Club?
San Juan Supper Club is something new and delicious at San Juan Island Cheese. Enjoy supper on the 2nd and 4th Saturdays of each month. Each unique menu will offer Chef Bill's 5-course prix fixe Tasting Menu or small plates and desserts a la carte. Join San Juan Island Cheese for a series of lively evenings filled with delicious small plates featuring seasonal ingredients, housemade desserts, and perfectly paired drinks. Please call us to make your reservation!
You can still "Love Your Lunch!"
We are your locally owned, family-run lunch bistro in beautiful Friday Harbor. San Juan Island Cheese is ideally located across from the Brickworks Farmer's Market and within walking distance to the ferry. Enjoy a delectable lunch menu of cheesy Panini Sandwiches, Hand-rolled Pasta, Daily Soups, Fresh Salads, Housemade Desserts, and Beautifully Crafted Cheeseboards. We offer an excellent selection of beer, wine and cider, and locally roasted coffee to complement your meal. Stop by our deli case for take-home dishes, desserts and hand-wrapped artisan cheeses.
Richard Daly
Shopkeeper
San Juan Island Cheese
155 Nichols Friday Harbor
360-370-5115