Darlene Ann Workman Erickson Demello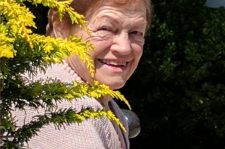 Darlene Ann Workman Erickson Demello​, age 82, a devoted sister, mother and grandmother, graduated to her heavenly home on March 10th, 2018 in Mill Creek WA. She was born on July 17, 1935 in Friday Harbor, Washington to parents Leslie & Rose (Nelson) Workman. She was the 2nd child of four and the only girl.
A true islander, born and raised in Friday Harbor, Darlene later moved to Maui in the 70's where she spent majority of her adult life. She would eventually move back to Washington to be closer to her parents and sons. Her grandchildren then later followed. She still loved Hawaii and considered both home. Socializing came naturally as she exemplifies one with confidence and grace. Complementing her sense of humor was her infectious smile that could light up any room.
To have friends you must first be one. And well she had many!
Preceding her: Brothers Ronald, Richard and Robert Workman as well as Son, Daniel Erickson.
Surviving her: Son, David Erickson; 1 grandchild, Erika Erickson Freitas; 2 great grandchildren, Breanna and Keanu Freitas; 3 great-great grandchildren, Elijah, Izaiah and Izreal Freitas.
Public graveside services will held Saturday, March 24th, 11:00AM at the Friday Harbor Cemetery, 311 Madden Lane, Friday Harbor Washington.
Celebration of Life to follow from 1PM to 3PM at Downriggers Restaurant, 10 Front Street, Friday Harbor.