Visitor Survey Findings now Available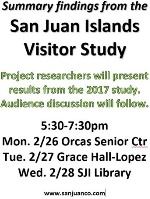 In late February 2018, consultants with Confluence Research and Consulting shared their findings from the 2017 surveys at a series of public presentations.
We'd like to extend our thanks to all who participated in this process. It was delightful to see so many interested citizens attend these presentations.
Those results are now available at http://www.sanjuanco.com/1391/San-Juan-Islands-Visitor-Study.