Walk & Talk Presentation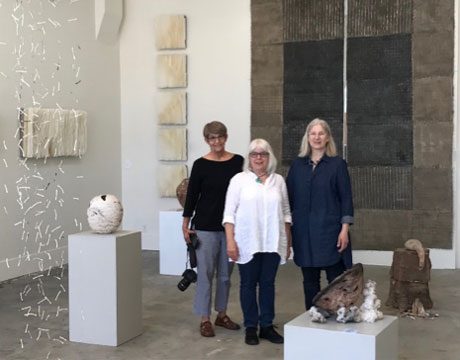 SUBSTRATE underlying Currents
In the spacious Nichols Gallery at the San Juan Islands Museum of Art (SJIMA), Susan Singleton, Kandis Susol and Hannah Alex-Glasser have created an elegant exhibition, SUBSTRATE: underlying currents. The three artists worked together to bring mature, intelligent work inspired by natural forms to the public. The close association of the artists and their philosophies bring an unmistakable harmony to the exhibition.
The theme for SJIMA's 2018 is THE FEMALE GAZE, as it focuses on a select group of dedicated, innovative and insightful artists who bring a feminine perspective to their creations and to our experience. These women share a devotion to their craft and an important counterbalancing message of peace, healing and beauty in troubled times.
All expertly use materials and processes indigenous to our lush northwest. Susan's prints are designed with wax, demar resin and paper whereas Kandis uses wax in an encaustic approach with Japanese Washi paper and paper from Nepal and India. Hannah's clay works are hand-built, unglazed vessels inspired by nature.
"Beginning as a conversation between three artists, the palpable harmony and resonance between our respective work and approaches inspired us to present it together, as one three-part voice". The three artists will be speaking about their work in a "Walk & Talk" Presentation on Sunday, March 25th, 3:00pm – 4:30pm in the Nichols Gallery at the San Juan Islands Museum of Art. SUBSTRATE underlying currents exhibit will be on display until May 7th, 2018.
The exhibition is open Friday-Mondays from 11-5 through May 7. SJIMA is located at 540 Spring Street in Friday Harbor, WA. Hours are Friday-Monday 11-5. Admission is $10, with members and those 18 and under entering free. Mondays are Pay As You Can days. Go to the web site www.sjima.org for more information on museum activities.